How often do we see prizes of £100,000 at the bingo?
Not even the National Game tends to pay that much! It used to, but it doesn't anymore.
I won't go into why as we could be here all day, but safe to say these 6 figure wins are very rare indeed with bingo.
So how has some fella in Northampton managed to bag such an eye watering amount of money?
Well it's all down to a version of bingo that is played live in bookmaker shops, and as he was in his local Betfred, the game he was playing was called Bonus King Bingo.
Here's what happened.
Won While on the Loo!
The guy in question is a chap called Danut Sulca – although I bet he wasn't a sulca when he realised he'd won… geddit? Sulca. Sulker?
Moving on.
Danut is a regular at the Betfred shop in Northampton, well liked by the staff and other customers, and likes to play the bingo while he is in there.
He only bets £1 on most occasions, which gives him one play on the automated bingo game.
He has a set of numbers he uses regularly:
8 – The month of his birth, August, is the 8th month.
19 – He was born in

19

73 so this is where the 19 came from.
23 – His birthday is the 23rd of August.
37 – Born in 19

73

, but there is no number 73 in bookie bingo, so he switched the numbers round to get 37.
45 – His wife's age.
49 – His own age.
On this fateful day he picked his regular numbers, then nipped into the toilet, and returned to realise that he had not only won, but won big.
Everyone was thrilled for him, and even Fred Done, the owner of Betfred, sent his best:
"That's certainly flushed me out! This proves you can win big from tiny stakes at Betfred. I'm chuffed to bits we've been able to make Danut's dreams come true."
So happy was Danut when he realised he had hit the big prize, that he couldn't stop shaking and had to sit down and have some water to calm his nerves.
One of the employees even went round to give him a hug and stop him from passing out!
Dream Come True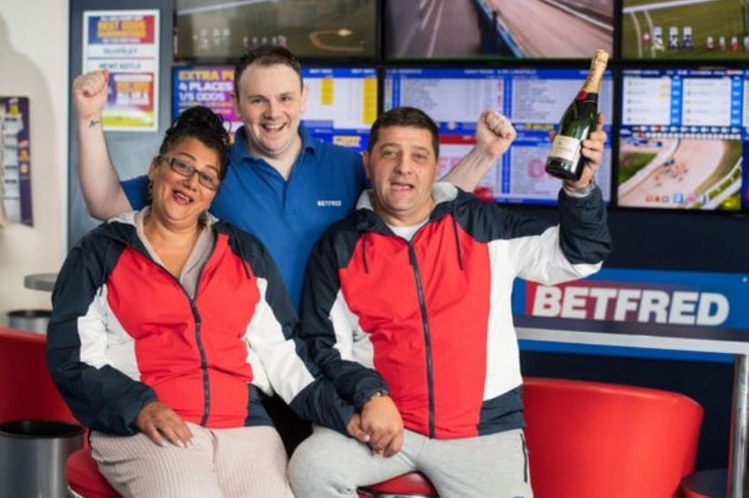 And it really is, because Danut only came to this country to make enough money to become a home owner back in his native Romania, and now he can do just that.
Jason Kelly, who runs the shop in which the win occurred, knows Danut as a customer, and said:
"Danut is a regular customer, a really nice bloke who deserves his big win.
Danut himself explained what the money meant to him and his wife:
"I rang my wife Elina and she was crying because she is so happy. We both work shifts on minimum wage so you can imagine how much £100,000 means to us."

"I came here to make money and now thanks to Betfred I can return to Romania and do what we've always wanted… buy a house."
It really is an achievement because the odds of picking the first 6 numbers to be called from a possible 49 are mind boggling – almost 14 million to 1.
That said, incredibly, this is not the first time someone has won big money on the Betfred game, and it was another immigrant with similar home ownership dreams that managed it earlier in the year.
What is Bookmaker Bingo?
Being an automated game that plays out on a loop, this bingo game isn't quite the same as the one we love to play.
It's still great fun though.
There are 49 numbers to choose from, a bit like the lottery, and the player can select 6 numbers then choose their stake. The more you bet the bigger the prizes.
However you can also add extra numbers to boost your chances, but this starts to get very expensive very quickly as you need to pay an extra stake for every possible winning combination.
Anyway, the crux of it is the quicker all of your numbers come up, the more money you can win.
If you can get them all called within 35 calls you should at least get your stake back, but if not you lose your stake.
If your six balls are all called first then you get the jackpot which is the £100,000, dropping down to £10k for 7 balls called, £5k for 8 balls called, £2.5k for 9 balls called, and so on.
I have played it and can say from experience that it is enjoyable, but it is different to bingo as we know it, and if you find betting shops a bit intimidating then it might not be the game for you.