50-ball bingo is one of the newest arrivals to the online bingo world, and at the time of writing this, it's currently only available across a small handful of online bingo sites.
The Gala Bingo brand are the main site to offer this type of 'bingo special' game at present, however other sites are slowly starting to branch out too.
Much like the 30-ball bingo variant, it's extremely fast paced to play, and due to the small amount of numbers on each card, each game is all over fairly quickly. The numbers 1-50 are spread across a strip of 5 tickets, and each individual ticket contains 10 of those numbers chosen at random.
There are 2 chances to win on each game played, and the aim is to mark off 1 full line at first followed by both for a completed full house. It's quite a similar system to that of the more classic style 90-ball bingo, but just on a slightly smaller and quicker scale.
The 50-ball bingo variant is a really exciting new addition to the online bingo market, and it offers players something a little different alongside much more traditional offerings. It's a fun game to play in between longer bingo games or even casino and slots, plus it's the perfect style of bingo for some quick 'gaming on the go'.
Gala Bingo 50-Ball Bingo Games
You will very rarely find 50-ball bingo in a land based bingo hall. It can only really be found in online bingo at present, and Gala Bingo are the main brand to offer these style games.
There are a few other sites that sometimes offer it from time to time throughout the year, but Gala were the first brand to come up with the concept here in the UK.
Their fun Coconut Island room offers 50-ball games daily, and it gives players the chance to be whisked away momentarily through a bright sunshine filled beach holiday theme.
Games are pretty fast paced and exciting, and you can choose whether to purchase individual tickets or complete strips of 5 tickets each time. Prices can vary between 10p and a £1 depending on which games you play and when, plus prizes can range from huge cash pay outs to plush holidays abroad.
How To Play 50-Ball Bingo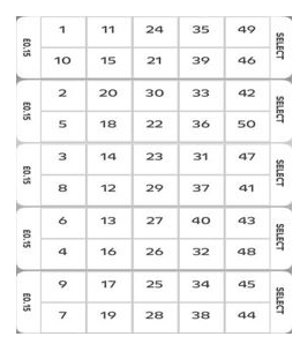 Playing 50-ball bingo is fairly similar to most other bingo games, in the sense that you simply need to cover the numbers on your card as and when they are called.
It's mostly the same as playing a game of 90-ball bingo, however there are a few differences that make it unique which are as follows:
Lines – In 90-ball bingo there are 3 lines of numbers to mark off per ticket, whereas 50-ball bingo only has 2.
Numbers – 50-ball bingo only includes numbers 1-50, instead of 1-90 in a 90-ball game.
Spaces – In a 90-ball bingo game there are usually blank spaces across every ticket. In 50-ball bingo each space will be filled with a number however, as there are less numbers and lines involved overall.
It's worth noting that if you purchase a strip of 5 tickets in a game, then you will have every number and will therefore need to mark one off every single time one is called. This is exactly the same in 90-ball bingo.
How Do 50-Ball Bingo Tickets Work?
The following table shows how the numbers 1-50 are shared across a strip of 5 tickets.
| Numbers | Column |
| --- | --- |
| 1-10 | 1st Column |
| 11-20 | 2nd Column |
| 21-30 | 3rd Column |
| 31-40 | 4th Column |
| 41-50 | 5th Column |
Can You Win Twice In One 50-Ball Bingo Game
Yes.
You can win exactly twice in one 50-ball bingo game.
The main aim of the game is to firstly fill in one line on your card for the first win, and then you must cover both lines to win the full house.
It's very possible that you could even win both times on the same game. It's obviously a complete game of chance like all other forms of bingo, but as there are so few numbers you may end up filling your card soon after you've completed one line.
How Much Can I Win Playing 50-Ball Bingo?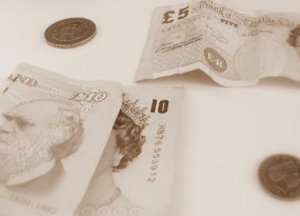 Prizes and pay outs are always changing with all forms of bingo, and there are so many factors that can change a prize pot. The main things that can make prizes bigger or smaller are:
Players – Generally the more players there are, the higher the prize fund. This isn't always the case but it's a factor that can sometimes bump up that jackpot.
Price – It's usually the case of, the higher the ticket price, the higher pay out.
Tickets – The more tickets you buy can obviously then add to your chances of bagging a nice prize. It's not always the case however, but it can enhance your chances.
50-Ball Bingo Conclusion
50-ball bingo is still a fairly new game on the scene, and it's currently only found across a small handful of exclusive sites.
It seems to be fairing pretty popular over at Gala Bingo however, so I have no doubt that it may be something we see much more of as time goes on.
The main things to know is that it's quite fast past in style, and it's very similar to more classic 90-ball bingo but on a slightly smaller level.
There are 2 chances to win on every game played, and the prizes over at Gala Bingo in particular are pretty tasty.
The only downside to this bingo variant is that it can't yet be found across all sites, but I do feel like this is something that may change soon so be sure to watch this space.