80-ball bingo first originated in UK bingo halls, and it's since transferred really successfully over to online bingo over time. It's now one of the most popular bingo styles found on most sites, alongside the more classic 90-ball and 75-ball games.
It was originally referred to as 'shutterboard' bingo in lased based bingo halls, as most clubs required you to shut a window over the number as it was called. Online now however it's just referred to as 80-ball bingo, due to the obvious lack of 'shutters' when playing on a website.
It's a very similar gaming style to that of 75-ball bingo, in the sense that you will be given a certain pattern to complete at the beginning of each game. The patterns will vary from each game to the next, and each site will offer its own variation on these too. Some sites will require you to fill out horizontal or vertical lines, whilst others may need you to fill out a cross pattern or mark off all four corners of the card instead.
80-ball bingo is extremely popular amongst lots of online bingo players these days, as it offers something a little different to the more classic style 90-ball bingo games. It's a nice homage to the old school land based 'shutterboard' style gaming, and nearly all of the bigger branded sites will now have 80-ball bingo as an option.
Why Has 80-Ball Bingo Become So Popular?
The most popular style of bingo played here in the UK are the classic 90-ball bingo games.
This is primarily because it's the first style of bingo we ever saw here in the UK in bingo halls and online, but players have now ventured out to these newer 80-ball variation games more recently.
Here are a few reasons why:
Tradition – Lots of players will remember the electronic boards and screens from UK bingo halls even if they don't go anymore, and it's nice to have a game online that's still reminiscent of that style of gaming.
Variation – 80-ball bingo is different each time you play, and the patterns and formations needed to win can even vary from site to site.
Colour – 80-ball bingo tickets are much more colourful than other bingo cards, and the mixture of patterns and colours can make the game that bit more exciting than the more standard 90-ball games.
How To Play 80-Ball Bingo
Playing 80-ball bingo is fairly similar to most other bingo games, in the sense that you simply need to cover the numbers on your card as and when they are called.
The main difference with 80-ball bingo however is that the style of patterns can vary from site to site. All in all however its extremely similar in style to that of 75-ball bingo, and the main aim of the game is usually to fill out the specific pattern stated at the beginning of each game.
Some things to keep in mind are:
Patterns are different for every game.
Lines can be horizontal, vertical or diagonal.
Some games require you to fill in either 4 corners, a cross pattern or even the 4 middle squares instead of a straight line too.
It's worth mentioning that some sites may only offer one game per ticket, however other sites may offer multiple chances of a win on each game. This means that you play first for one or two lines/patterns, and then they might also offer a full house win at the end too. Again this can vary from site to site, so it's always best to check the rules with each brand before you play.
How Do 80-Ball Tickets Work?
The following table shows how the numbers 1-80 are shared across a 4×4 grid.
| Numbers | Column |
| --- | --- |
| 1-20 | 1st Column |
| 21-40 | 2nd Column |
| 41-60 | 3rd Column |
| 61-80 | 4th Column |
Can You Win Twice In One 80-Ball Game?
This can completely change depending on the site at which you are playing.
As mentioned before, the format can vary from site to site, so it's always best to check the rules of that particular provider before you play.
Some sites might offer one chance of winning with just one pattern to complete, whilst other sites may have a more traditional approach requiring either 1 or 2 lines then a full house format.
How Much Can I Win Playing 80-Ball Bingo?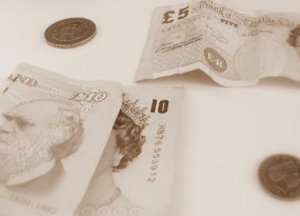 Prizes and pay outs are always changing with bingo, and there are so many factors that can change a prize pot. The main things that can make prizes bigger or smaller are:
Players – Generally the more players there are, the higher the prize fund. This isn't always the case but it's a factor that can sometimes bump up that jackpot.
Price – It's usually the case of, the higher the ticket price, the higher pay out.
Tickets – The more tickets you buy can obviously then add to your chances of bagging a nice prize. It's not always the case however, but it can enhance your chances.
80-Ball Bingo Conclusion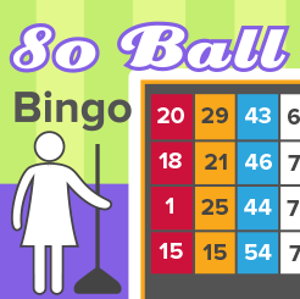 The main thing to know about 80-ball bingo, is that it's a pattern style bingo game, much like the popular American style 75-ball bingo. Its pattern based system means that each game is different, and the game itself can vary from site to site.
It's an age old variation on the more classic style 90-ball games, and it's the type of bingo that you may have played in a UK bingo hall on a coloured board or screen. It has a cute nostalgic feel and can be great for players who play a lot in live halls, plus it's something totally different if you've only ever played online.
It's worth noting that the rules of 80-ball bingo can be different sometimes across certain sites, so it's always best to check with each provider what the premise is before you play. Some sites will have a similar format to that of 90-ball bingo where you play for lines and then a full house, whereas other sites will simply have one chance to win on each ticket. Overall it's a fun alternative to standard 90-ball bingo, and one of the best things about it is that it's available on most sites around.