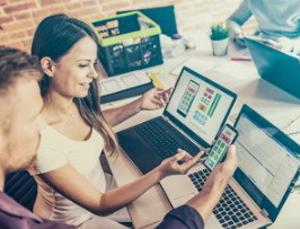 Most of us will have come across bingo at some point in our lives, and the majority of us will be familiar with the basic rules of the game. The principles of bingo have always remained the same over time, but the industry as a whole has evolved massively over the last few decades.
As live bingo became more and more popular in the 80's and 90's, bingo companies started to develop different variations on the more classic style games to keep up with competitors. When online bingo then hit the scene in the late 1990's, bingo took on an entire new life altogether.
Software developers started introducing different styles of bingo to offer players completely new experiences, and suddenly we saw the introduction of more unique bingo games with a twist. There are so many different types of bingo available on the market now especially online, so you'll rarely be spoilt for choice when choosing a game. Whether you're an avid bingo fan, or a complete bingo novice, there are plenty of fun games out there for all to enjoy.
Below you'll find a list compiling some of the bingo variants you might come across these days, and a little more info on how they work and where to find them…
Deal Or No Deal Bingo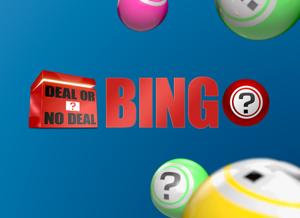 Deal or No Deal rocketed to fame on our TV screens back in 2005, and the brand continues going strong to this day.
The series sadly ended here in the UK in 2016, but you can still find different versions of the game in all forms today including, yes you guessed it, bingo.
The brand had their own online bingo site for years from 2010, as part of the Playtech bingo software family. Unfortunately however as the popularity of the show died down, there became a few discrepancies into the quality and operation of the site. The platform eventually closed down a few years later.
You'll still find lots of Deal Or No Deal bingo these days available on other platforms however, as the brand still offer the games out to other sites that also run on Playtech software. As these sites are owned by individual brands the games seem to run much smoother now, and fans still love the chance to either Deal, Or No Deal.
Where To Play Deal Or No Deal Bingo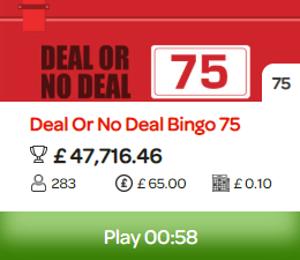 As mentioned above, most sites that run on the Playtech software will still offer a version of Deal Or No Deal bingo. All games come in a standard 90-ball or 75-ball bingo format, and each game is usually linked up to the DOND network as a whole.
This means you'll be playing alongside lots of other sites and players at the same time, but it can also generally means much bigger prizes too.
Some of the sites that carry Deal Or No Deal bingo are shown on our Playtech page.
How To Play Deal Or No Deal Bingo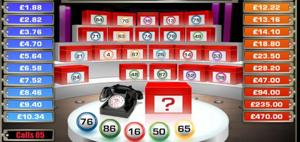 Essentially, Deal Or No Deal bingo offers regular bingo games, but these include an additional twist at the end for the winner of the full house.
Here are the basic rules of the game:
All games run as standard 90-ball and 75-ball games to start with.
Above your bingo tickets you'll find the infamous 21 red Deal Or No Deal boxes.
Each box contains a number from either 1-90, or 1-75 dependent upon which bingo variant you are playing.
You will generally play for 1 line, 2 lines, (3 and 4 lines if it's a 75-ball game) and then a full house to finish.
If one of the numbers on the boxes is called during the game, the box will open and reveal a prize payout (each box contains a different amount).
When the full house is claimed, the winner will get the chance then to interact with both Noel Edmonds and the banker (albeit virtually in game form of course).
The banker will then offer the winner a fixed jackpot prize, or they can choose to keep playing for a figure that has been revealed in a box throughout the game.
Other players can also interact during this feature, and there is an opportunity to vote what you think the winner should do.
If the winner chooses to 'Deal', a prize will then be selected at random from one of the boxes, and they could end up either better or worse off than if they chose to 'No Deal'.
Deal Or No Deal Bingo Community Jackpot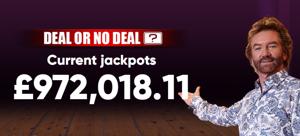 Another exciting feature of Deal Or No Deal bingo, is that there is usually always an additional progressive community jackpot up for grabs too.
This will played for alongside the standard prize fund, and it usually has to be called in 31 numbers or less. If the house is called, the total prize fund is then split, 50% to the winner and 50% is shared amongst all other players.
52-Ball Bingo or 'Flash Fives'
The most commonly known bingo variants include the following games:
However as bingo site technology began to improve throughout the years, we soon saw the introduction of a completely different game altogether.
52-ball bingo, or 'Flash fives' as it's also known, uses a deck of cards as opposed to bingo balls. The basic idea is to cover your cards as and when they are drawn, just like you would with regular bingo. It's sometimes known as 'Flash Fives' on certain sites, as it's an exciting and fast paced game that's over in a flash.
It's not an entirely new concept to play bingo in this way, but it's become particularly popular with online bingo fans over the years. Software developers have started to include it more and more across their sites these days, and the online community still seem to really love it.
Where To Play 52-Ball Bingo
Quite a few online bingo sites offer this bingo variant, and the popularity of the game continues to grow.
It offers players a cool combination of casino and bingo all in one, and it's a great alternative to more standard bingo games.
Sites that carry 52-ball bingo, or a 'Flash Fives' style game are on the dragonfish network and can be found over on our dragonfish page.
How To Play 52-Ball Bingo
This game is known as 52-ball bingo, as there 52 cards in a deck of playing cards. The basic premise of the game is to cover the cards that you are dealt in your 'hand', and each 'hand' consists of 5 playing cards.
Below is a step by step guide of how to play in more detail:
1x ticket = 1 hand of 5 cards.
The caller will deal a card from the playing deck.
If you have that card in your row then you cover it over with a casino 'chip'.
The first person to cover all 5 cards in a row wins the game. If multiple players win, then the prize fund is shared.
The games can be quite speedy on some sites, but as with all online bingo games your cards will automatically be covered if and when they are called. You won't need to worry about missing out on that big win, even if you miss a card from time to time.
52-ball bingo isn't really classed as a big money game, as the prizes tend to be fairly low. It's more a game of fun and excitement due its speed, and it's something to perhaps play in between longer games. It's been know for some sites to have a rolling progressive jackpot on these games however, so do look out for those from time to time.
5 Line Bingo or 'Swedish Bingo'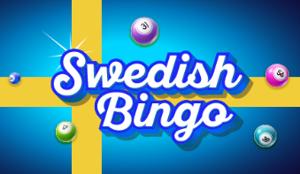 5 line bingo or 'Swedish Bingo' as it's also known, is an age old bingo game that's still fairly popular within the bingo community today.
It's not as easily found online as some other bingo variants, but a few sites out there do offer versions of the game.
It's extremely similar in style to 75-Ball or 'Pattern Bingo' as it's also called, but there are few main differences between the two.
The aim of both games is to mark off numbers from 1-75 on a 5×5 grid, but in 5 line or 'Swedish Bingo' the following factors may be different:
BLANK SQUARE – In 75-ball bingo there is usually a free blank square in the middle of the grid, whereas in 5 line bingo all the squares contain a number.
WINNING – With 75-ball bingo there is usually only one chance of winning, whereas 5 line bingo offers 5 chances per game.
PATTERNS – 75-ball bingo offers players a pattern to fill out each game, whereas 5 line bingo involves straight lines and a full house.
For more detailed information on the rules of 75-ball bingo click HERE.
Where To Play 5 Line or 'Swedish' Bingo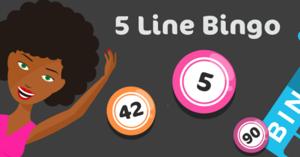 Online bingo sites are more likely to offer 75-ball bingo in general, but there are a few sites out there where 5 line bingo is going strong.
These sites are hosted on the dragonfish network and can be found over on our dragonfish page.
This old game is enjoying a resurgence among younger bingo players especially.
How To Play 5 Line or 'Swedish' Bingo
Below is a step by step guide of how to play 5 line bingo, and the image on the right breaks down the ticket in a bit more detail too:
Purchase tickets.
Each ticket comes in the form of a 5×5 grid containing 25 numbers between 1-75.
You will most likely play for the 1st, 2nd, 3rd and 4th line then the full house to finish. This gives you up to 5 games per ticket.
All lines played for will usually be horizontal or vertical, but there are some sites where you can play diagonally too.
5 line bingo or 'Swedish Bingo' is a really fun and simple game to play, and as less people know about it, less people are likely to play.
Cash Cubes Bingo
In 2016, software giants Playtech (then known as the Virtue Fusion network), launched a brand new 36-ball speed bingo game called Cash Cubes. It was the first of its kind in this particular style of gaming, and it offered something completely different to the market.
The new addition caused quite a stir within the online bingo community, and players went crazy for the little fun and fast paced game. It's popularity has remained strong over time, and players still love this sweet bingo alternative today.
The aim of the game follows pretty standard bingo rules, in a sense that you mark off the numbers on a card. However the 36-ball cube feature offers a completely different experience altogether. In this version of bingo you mark off the numbers on a cube instead of a standard card, and each different coloured cube can offer different prizes along the way.
Where To Play Cash Cubes Bingo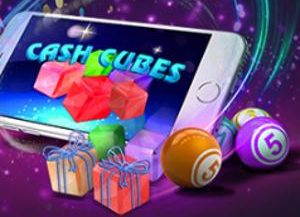 You'll find Cash Cubes Bingo across most of the Playtech online bingo sites. Games usually cost between 10p and £2 per cube/ticket, and they happen pretty often throughout the day.
It's available in both mobile app and desktop versions, but it does tend to operate slightly better through an app.
Head over to our Playtech page where you can find Cash Cubes Bingo.
How To Play Cash Cubes Bingo
As mentioned before, the main aim of the game is to mark off all the numbers on your cube. The first person to then mark off every number across all sides of their cube, wins.
Cubes can cost more, or less, depending on their colour, and the more you pay for the cube, the bigger the jackpot if you win.
For example:
ORANGE CUBE = £0.10 -> PRIZE =£0.20
RED CUBE = £2.00 -> PRIZE =£4.00
Cash Cube Collection Feature
Smaller prizes can also be claimed as part of the Cash Cubes game, and the following explains why cubes can cost more, or less money when purchasing:
Each cube purchased contains four individual cubes of its own.
As you complete the numbers in one particular area of the cube, it shatters and collects at the bottom of the screen (See image).
That cube is then added to your account, and each time you play, you will build your collection of cubes.
Each time you get four of these smaller cubes you can then claim a prize, and the prize reflects the cube colour/cost. For instance, the higher the cube cost, the bigger the prize.
Progressive jackpots also run quite a lot on Cash Cubes games too, but they usually have to be claimed within 18 numbers or less. The normal prize funds on this type of bingo aren't really that exciting (unless you bag that progressive jackpot of course), but the bonus cube collection feature does help build up your prize pot every now and again. Cash Cubes is generally played more for fun, and it offers something different to play alongside regular bingo games.
Some Lesser-Known Bingo Variations
Some bingo variations come and go, and others just crop up out of nowhere from time to time.
Below we've compiled a list of some of the lesser-known types of bingo games that might appear, both online and in land based halls.
These are much rarer games and are a bit harder to find, but they do still exist occasionally and offer some nice prizes.
Here's a little more info on some of those hidden bingo gems:
Bonanza Bingo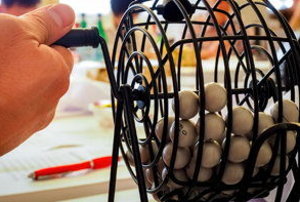 Bonanza Bingo may crop up on a site from time to time but not very often these days. It's a combination of bingo with a lottery type feel.
Basically as a player you will purchase a card, and each card contains 6 numbers. The computer will draw 6 balls like a lottery, but these balls also contain prize amounts.
If you match up two numbers from your card you win a prize, and you will always win the highest amount out of the two winning balls. This game is rarely found these days as it's so similar to a lottery, but who knows, it may make a big return in the future.
'Stallion Race' Or Horse Racing Bingo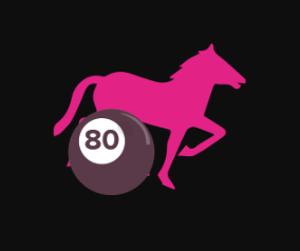 Yep, you read that correctly, Horse Racing Bingo. It may sound slightly hard to believe, but this style of bingo does actually exist. It's definitely a niche game that is hard to come by, but it can still crop up occasionally.
The overall principle of the game is to mark off all your squares just like regular in regular bingo, but the difference here is that you will have horse racing scenarios or phrases to mark off instead of numbers.
It's a really fun side game usually played in between live horse races, and it's most likely found on sports betting sites as opposed to online bingo sites. It's a fairly new game on the market however, so it may make it's way into more mainstream bingo sites over time, who knows?
Passing Bingo Game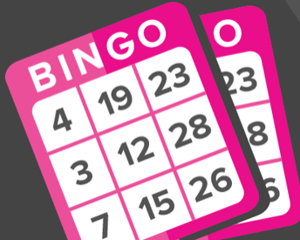 You may have come across a Passing Bingo Game without even knowing that was what it was called. It's basically bingo, but, well, backwards.
Instead of trying to mark off the numbers on your card, the aim is to not have any numbers called at all. When someone gets a full card they have to sit down, so the winner of the game is the last person standing.
This game is usually played with smaller tickets of just a few numbers, and it's generally played in live bingo situations for fun as opposed to online.
Bingo U Pick-Em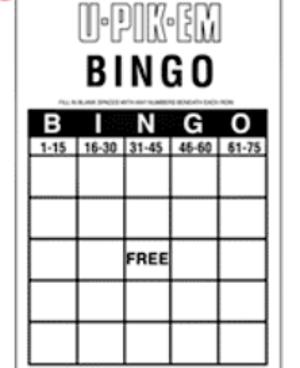 Bingo U Pick-Em really is what it says on the tin. It's a chance for you to pick your own numbers.
This game is generally only ever played in live bingo hall situations, or sometimes it can be found at family events and parties just for fun.
The tickets you get are totally blank to start with, so it's up to you then to fill it in with your chosen numbers.
Some players like to pick the same 'lucky' numbers each time they play, similar to how some people play the lottery. Whereas others like to shake it up and try their luck with different numbers each time.
Again, this is a bingo variation that's usually played more for fun than for a big jackpot, but it's a nice little interactive game which gives you the chance to be in charge.
Bingo Roll On
Bingo Roll On is quite popular in live bingo halls, but it can also sometimes be found across some online sites as well. The main point of Bingo Roll On as a whole is to offer players a prize, even after the full house has been claimed.
This means that the game will carry on again after the main winner has been announced, but this time the prize will be a lot smaller. You could end up grabbing yourself a sweet little physical prize, or you could win loyalty points towards your online bingo account instead.
Lucky Numbers Bingo
Lucky Numbers Bingo has been around for a while, and it gives players the chance to win extra prizes. Basically it's a slight variation on normal 90-ball bingo, but before the game starts you need to pick 3 'Lucky Numbers'.
If any of these numbers match the final three numbers called on each line or full house then you win a prize. If 1 number is matched, you win a Bronze prize, you'll win a Silver prize for 2 numbers and then a Gold one for 3. The prizes get much better the more numbers you match.
Session Bingo
Session bingo can be found from time to time both online, and in live bingo halls. It basically means that you purchase a bundle of tickets for a whole session of different games of bingo.
This can mean you get up to 15 games within that particular session, and it works out much cheaper than playing each game separately.
Games can include a mixture of 90-ball, 75-ball, 80-ball and even 30-ball games, and it's a really great way of mixing it up and trying out different games for less cost. Sessions can run at certain times throughout the month, and they are much easier to find than some of the other lesser-known bingo variants.
Conclusion
As you can see from this article, there are so many variations of bingo available these days. Some styles are hugely popular, whilst others far and few, but you will always be able to find some form of bingo alternative out there.
Whether its a speedier type game you're after like Cash Cubes or Flash Fives, or something completely different altogether like Deal Or No Deal, you will never be short on options when looking for a different type of bingo game.