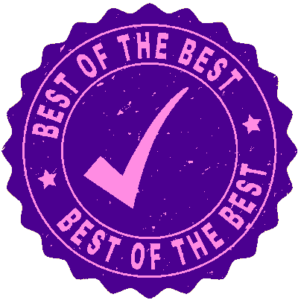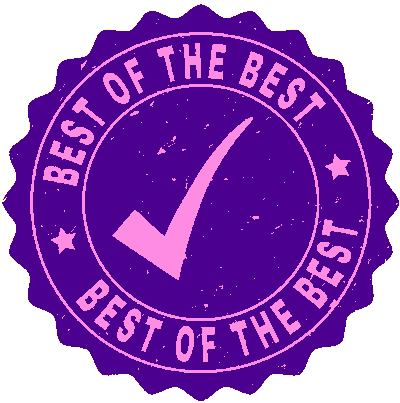 As many Brits already know, bingo has become quite the part of the country's culture. That's quite the achievement, considering most experts believe the general game of bingo originated somewhere in Italy during the 16th century. From there, the game spread into France and then migrated over to the shores of Britain and various other European locations. With the UK introduction of the Betting and Gaming Act 1960, large cash prizes were legalised for bingo games, and the year of 1961 saw the launch of Mecca Bingo – a brand that still exists today.
That brand was owned by Mecca Leisure Group, led by Eric Morley. He went ahead and introduced bingo to 60 of his dancehalls, including the well-known Lyceum Ballroom. In the proceeding years, other bingo operators sprung up, including The Rank Organisation, which hosted bingo at its popular Blackpool Odeon cinema.
Today, a vast plethora of bingo halls can be found across Great Britain, attracting thousands of weekly visitors to their games. But it would be common to wonder what are considered as some of the country's best bingo halls to visit and play in.. This article takes a closer look at these establishments and how they have come to be known as the best in the country.
Granada Theatre, Tooting, Wandsworth
When people think of Gala Bingo and the sort of clubs and halls it operates, it isn't usually very common to consider theatres as being locations for such. Yet the Granada Theatre in Tooting is exactly that. A Grade I Listed building as well.
The Granada Theatre was originally built as a wonderful art deco cinema in the 1930s, offering visitors a luxurious cinematic experiences. In many peoples' eyes, it remains as the most spectacular cinema to have ever existed in Britain. In 2015, it became an asset of community value.
Variety acts would visit the Granada throughout the years, with its height of popularity coming in the 1940s, 50s and 60s. Artists who performed there include Frank Sinatra, The Rolling Stones, Jerry Lee Lewis, The Beatles, and in the final performance by a musical act at the Granada, the Bee Gees in 1968.
Declining attendance to the cinema was experienced in the late 60s and into the 70s though, and in '73, heavy storms led to the building being flooded. Significant damage occurred as a result, and the building was closed in November of 1973. The final films to be shown there were The Man Called Noon and Perfect Friday.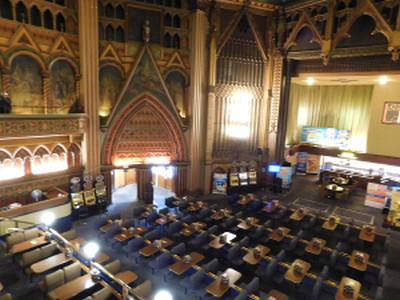 It was left unused for three years, before it reopened in 1976 as the Granada Bingo Club. It continued as such, until Gala Bingo acquired it in 1991.
By 2000, the Granada Theatre was relisted as a Grade I building after having received a Grade II listing in 1972. In 2019, it became a part of the 119-venue Buzz Bingo chain.
There is little doubt that it stands out as a wonderful venue, providing eye-catching visuals, a theatre-style seating setup, and ornate decorations all around.
Mecca Bingo Forge, Glasgow
If you were to enter the Mecca Bingo Forge in Glasgow, it probably wouldn't look very different to many other bingo halls. Other than the fact that it has the space for 2,000 players to seat themselves and play. While that is quite the large capacity, the bingo hall is actually famous for another reason entirely.
As it happens, it has officially been labelled as the luckiest bingo hall in operation within Scotland, and the second luckiest in the whole of the United Kingdom. More money has been won at Mecca Bingo Forge than anywhere else in Scotland. In fact, it was in this bingo hall that one lucky player managed to scoop £50,000. That player, who returned to playing bingo at the Glasgow Forge once it re-opened following 2020's first lockdown, had been attending the same location for gameplay for 10 years.
COVID-19 took a lot away from people, bingo players included, but it certainly wasn't going to stop that win from taking place. The bingo hall is still going strong to this day, providing games for a plethora of avid gamers. It also provides entertainment nights for bands to play, and celebrities have made appearances at Glasgow Forge as well.
The Spanish City, Whitley Bay, Tyne and Wear
If you were to walk along the seafront at Whitley Bay, then you would come across the Spanish City building. It was opened in 1910 as a smaller version of Blackpool's Pleasure Beach, and it provided a concert hall, restaurant, roof garden and tearoom. Ten years later, a ballroom was added to the establishment, while a permanent funfair came along soon after.
During a caretakers' strike in the 1980s, it was also used as a classroom for pupils of Whitley Bay High School, and then was transformed into a live music venue, hosting various bands, including Northern Irish rock band Ash in 2001. Mark Knopfler of Dire Straits fame, and singer/songwriter Sting have both spoken of treasured memories of The Spanish City establishment.
Prior to all of those events, The Spanish City was converted into a bingo hall in 1961. Initially, it garnered a lot of success, drawing customers in on a frequent basis to enjoy daily bingo games. That success continued on throughout the next decade or two, but the bingo hall started to struggle against larger, well-known bingo brands into the 80s. It was in the 90s that The Spanish City closed its doors, and in 1999, the fairground's demolition was announced.
The building received a grant of £3.7 million from the Heritage Lottery Fund in November of 2013, went through various repairs and renovations, and then re-opened in July 2018 as a leisure hub. Perhaps space will be made to re-introduce bingo operations in due course as well?
Top Rank Club, Kingstanding, Birmingham
Another Grade II Listed building, the Top Rank Club (or the Odeon as it is often referred to) in Kingstanding, Birmingham, is an impressive building from the outside. Constructed between 1935 and 1936, it was thanks to Harry Weedon and Cecil Clavering that it utilised a symmetrical, modernist, art deco design. It was actually opened as an independent cinema house, and its original name was The Beacon. Once Oscar Deutsch got involved with the project though, it was opened as part of his Odeon chain.
Inside the building, there were 968 seats in the stalls and 324 in the circle. The very first film to be shown there was The Lives of a Bengal Lancer, featuring Gary Cooper in the starring role. Yet it ceased to operate as a cinema in 1962, with the final film to be shown being To Hell and Back, starring Audie Murphy.
It didn't take long for the bingo afficionados to turn to the building and consider it as a bingo hall for the people of Kingstanding. It was eventually repurposed as a bingo hall, opening its doors again under the Top Rank bingo chain. Throughout the proceeding years, it has continued serving the residents of Birmingham, but today serves under the Mecca name. The building achieved its Grade II listing status on October 10, 1980 – 44 years after it was constructed. It has also been described by many as "one of the best surviving examples of Odeon cinemas in Britain" – and that couldn't have been possible without the game of bingo taking over.
Dabbers Social Bingo, Aldgate
Whoever said that bingo is a game for oldies was so wrong, as the Dabbers Social Bingo establishment aims to prove. Visiting this London bingo hall will see you enter a neon-lit club, where themed events take place on a frequent basis. These include Dog Bingo, Brunch Club Bingo, and more. There are even bingo nights complete with dance battles taking place on the club's stage.
Dabbers Social is open every day of the week, and it hosts some of the best comedians, performers, and musicians in the country. Incorporated into the modern club is a fantastic dining experience, and huge prizes to win from playing bingo. Meanwhile, the balls are drawn from a spectacular custom-built ball machine. The venue can even be hired out for private events, while special occurrences take place for seasonal moments, like Christmas and Halloween.
While it maintains a quintessentially British vibe throughout, the cups of tea have been put to one side in favour of high-end cocktails, while the traditional style bingo callers have been replaced with artistic, entertaining game hosts. The whole idea of Dabbers Social when it was opened was to reinvigorate the game of bingo, and it certainly does that!
Hijingo Bingo, Shoreditch
Another unique experience to be had in London, Hijingo Bingo is one of the more recent bingo halls to open its doors. Marketing itself as a multi-sensory boozy bingo establishment, you'll always have a fun time playing the games there. Incorporating not only a bar alongside the bingo side of things, but DJs and fun music events, Hijingo aims to take the modern version of bingo and bolster it even more.
Vibrant red lights spread over the bingo hall make it feel much more like you're playing in a nightclub. Could this be the future of bingo in Britain? Well, perhaps so, because it has ground-breaking sonic effects and effective motion graphics in place throughout the building. Combining that with the opportunity to win some epic prizes, such as a holiday to a European cite for two people or camera drones. There is little doubt that Hijingo Bingo is appealing to a whole new market of bingo gamers.
It serves as the only bingo club in the borough too, considering that Mecca Bingo on nearby Hackney Road closed down in 2015 after a 65-year success period. The creators of the bingo hall want to expand the idea of Hijingo, taking it to other UK locations and even into Europe. Discussions have even been held with a site in Las Vegas!
Dreamland, Margate, Kent
We're returning to a vintage bingo hall for the final addition to this list with Dreamland in Margate. The site where the building stands was actually a salt marsh known as the Mere, and up until 1809, it was inundated at high tide. Eventually a seawall and causeway were built, and in 1846 a railway terminus was also built. As an entertainment venue, its origins date back to 1866, which is when London restaurateurs Spiers and Pond opened both a restaurant and dancehall in the by-then unused railway terminus on the Mere causeway.
That proved to be an unsuccessful jaunt, and it was taken over by the Reeve family. It was in 1870 that George Sanger entered into a partnership with Thomas Dolby Reeve to introduce circus shenanigans, pleasure gardens, sideshows, and so on. Amusement rides would be introduced in 1880, while a skating rink followed in 1893.
A ballroom was constructed on the site of the skating rink in 1920, while a variety cinema came along on the site in 1923. It continued expanding, with more amusement rides being brought to Dreamland, and a myriad of owners coming to the fore throughout the proceeding decades. At the same time, it has gone through multiple closures and re-openings.
The cinema was enlarged in the mid-1970s and also included a theatre by that time. The theatre was not a successful business though, and it was converted into a bingo hall as a result. Bingo and cinema used to therefore run in coexistence at Dreamland. The bingo hall remained a popular attraction for people, although it sadly closed in 2007, along with the remaining cinema screens, despite a strong local campaign to save it.
Fortunately, in 2015, it had money pumped back into it from, amongst other things, the Heritage Lottery Fund. While a dedicated bingo hall is not present within the building anymore, this doesn't stop bingo games from taking place at Dreamland, with events occurring a few times every month inside.