If you've never played online bingo before, then it may all seem slightly overwhelming at first. You might be thinking how do I sign up and make an account?  How much do games cost, and also how do you buy a ticket?
If this sounds slightly familiar, then do not fear, here at newbingosites we've put together a few pointers to help get you up and running. Most online bingo sites operate in very similar ways these days too, so once you've managed the basics, you'll be daubing away like a pro.
If you've ever played live bingo in a land-based bingo hall at any point, then you'll know that it's pretty simple to purchase your tickets. You'll most likely head to the kiosk and pick up your cards, or these days you can also purchase them through electronic boards and tablet devices too. All in all the entire process is fairly simple once you get started, and this generally applies when it comes to online bingo tickets as well.
There are lots of different styles of online bingo out there nowadays, but whatever the variation, the same rules will always apply when buying tickets. You'll most likely deposit money into your online bingo account using your preferred payment method, then once you purchase a ticket, the money will leave this account each time you play. Some sites will offer free bingo tickets, different deposit amounts, maximum ticket allowances etc, but overall it really is as simple as deposit and play in most cases.
Read on for more detailed information on the process as a whole, from signing up to a site right through to playing the online bingo game of your choice.
How Do I Sign Up To An Online Bingo Site?
First and foremost before signing up to play, you'll need to choose your preferred online bingo site.
There are so many to choose from these days with so many different offerings, so make sure you have a look around first before making a deposit.
Here are the main steps you'll need to take to sign up to an online bingo site:
Choosing An Online Bingo Site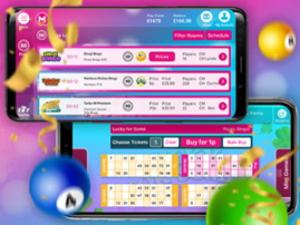 Below are a few things to consider when choosing a site to play at:
Brands – Some online bingo sites belong to bigger branded gaming companies. These sites may also offer links to separate platforms for casino, lotto, football etc, and these platforms will all fall under the same brand.
Size – Some online bingo sites may be attached to bigger branded betting platforms and bingo hall chains, whilst other sites may be completely independent. Some of the smaller sites can have more of a personal feel, however there may be less choice of games and smaller prizes on offer.
Themes – A lot of online bingo sites are based on a certain theme. This can help differentiate them and help them stand out amongst the crowd. They will have a particular colour scheme or a mascot etc, and the games may be based on the whole theme of the site too. This can offer a really fun element to the bingo, and it helps give the website a nice personal feel.
Software and Networks – All online bingo sites will be operated by a particular gaming software or network, and each network may run multiple bingo sites at a time. Therefore, you may notice a similarity in between certain sites, and this is because they will belong to the same network or gaming "family".
Payment – Payment options can vary from site to site. Some may offer a wide range including E-wallets and PayPal, whereas some of the smaller sites may only take card payments. Every site will have a dedicated banking section however, so you can look through that before signing up.
Games – Games will differ across most sites, but generally you will get a good variety of bingo and slots. Some will offer big branded games, whilst other sites might stick more to their own unique games.
Signing Up
Once you've chosen an online bingo site to play games at, you'll need to take the following steps then in order to register:
Hit the 'Sign Up' or 'Join' button.
Enter your personal details i.e. name, address, date of birth etc. You must be aged 18 or over to sign up to an online bingo site.
Choose any usernames/password preferences.
Enter your credit/debit card information. No money will be taken at this point, this is just for verification purposes only. You can then choose at a later stage how you would like to deposit and withdraw any money.
That's it. You're all done. It really is as simple as that.
How To Buy Online Bingo Tickets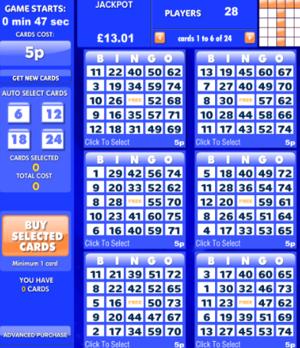 Now that you've signed up to an online bingo site, it's time to start getting some tickets and trying out your luck.
Once you've chosen your preferred deposit method and funded your online bingo account, you can purchase your tickets then as and when you wish.
Different bingo variants may offer slight differences in things like cost and how many tickets you are allowed to buy for each game etc, so it's always best to check this on each site before you choose to play.
The following factors will vary when purchasing online bingo tickets:
How Much Does An Online Bingo Ticket Cost?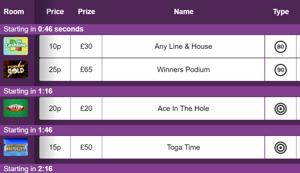 The cost of an online bingo ticket will vary from game to game i.e. whether you're playing 90-ball bingo or 75-ball bingo etc, and the cost will also vary from site to site too.
Overall, online bingo is a fairly low stake game to play, and tickets are always pretty cheap across the boards.
They can range anywhere between the following:
1p a ticket – For lower jackpot games.
10p-50p a ticket – For mid/high range jackpot games.
£1 – £2 a ticket – For much bigger linked jackpot specials.
£5 or more per ticket – This would only ever be for one off games with huge progressive jackpots. This is a very high ticket price however, and it's rare that you'll ever pay this much for one ticket.
You will always be shown the cost of each ticket clearly before you make a purchase, and you will also be asked if you have input the correct amount should you be purchasing quite a substantial amount of cards in one go.
How Many Bingo Tickets Can You Buy In Each Game?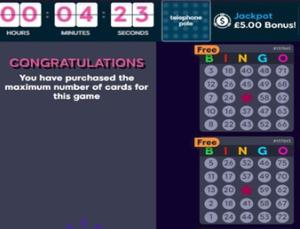 The amount of bingo tickets that you can purchase for each game will vary from site to site, and it can also vary from game to game too.
MAXIMUM TICKETS ALLOWED:
On the more classic style bingo games like 90-ball and 75-ball bingo, there may be an upper limit of cards that you can buy at any one time.
If there is an upper limit, it could be anywhere between  1-90 cards depending on the game, and you'll be able to purchase any amount providing that your account has sufficient funds.
This isn't always the case however as some sites may have no upper limit, so always check with each site before you choose to play a specific game.
MINIMUM TICKETS ALLOWED:
Generally, there isn't ever a minimum amount of tickets that you have to purchase in online bingo games – the obvious being that you must buy at least one card in order to play – but apart from that you shouldn't have to purchase a higher minimum amount.
This could always vary again on certain games however – especially with promotional games or some bingo specials – so it's always best to check the minimum ticket amount in any small print before purchasing.
Advanced Bingo Tickets
Tickets for all online bingo games usually go on sale anywhere between 10 minutes -1 hour before a game is about to start. However, some online bingo sites might give you the chance to purchase certain tickets much further in advance too.
These tickets might only be available on specific promotional games – for example if a big progressive jackpot game is scheduled for the end of the month/every Saturday etc – but you can usually purchase these from up to a week before the game is due to take place.
Free Bingo Games
Lots of online bingo sites will offer free bingo games nowadays. These games are nearly always available as soon as you sign up, and they help you get a feel for a site and how it works.
Some sites will also have specific free bingo rooms operating at certain times throughout the week as well for all members, and the amount of tickets that you are allocated for these will again depend upon the rules of each individual site.
Bonuses And Promotions
Sometimes when you're playing on a game with a specific bonus or promotion applied, it might affect the amount of tickets that you can purchase for that game.
Some promotions may give you free tickets/spins etc, whilst others might have no limit on tickets whatsoever. As with most other factors mentioned above in regards to purchasing tickets, it's always best to check with a site before playing.
Conclusion
As you can see from this article, it's a fairly simple process to buy online bingo tickets. Once you've done it once or twice after signing up to a site, everything will hopefully become much clearer.
Nearly all online bingo sites follow a very similar pattern when it comes to deposits, banking, tickets etc these days too, so you'll find it really simple even when playing across different sites.
The main things to remember when it comes to purchasing online bingo tickets are:
SIGN UP – As soon as you've signed up to any online bingo site, you can start purchasing tickets for all of the games available.
DEPOSIT – Make sure you have sufficient funds in your online bingo account via a valid credit/debit card, PayPal account, E-wallet or Apple Pay etc.
TICKETS – When choosing tickets for a game, always make sure you know the exact cost of each card before purchasing. You will always be shown all details i.e. cost, jackpot, amount of players etc before the game starts however, so it all should be nice and clear before you decide to buy.
MAXIMUM AMOUNT – Maximum ticket amounts can vary between games, and can fall anywhere between 1-90 cards at a time. Some games may have no upper limit of tickets however.
MINIMUM AMOUNT – There is generally never a minimum amount of tickets in online bingo – apart from having to buy at least 1 to play of course – but some one off games may have a minimum ticket limit from time to time. This is pretty rare though.
ADVANCED TICKETS – Tickets are usually put on sale from up to an hour before a game, but some bingo promotions may be available from up to a week in advance.
FREE BINGO – Free bingo games usually allocate you a certain amount of cards before the game begins.
BINGO TIP -If you're ever feeling slightly apprehensive about buying an online bingo ticket, then a good tip is to purchase one for a really low stake game to start with. Lots of online bingo sites offer games that cost just 1p these days, so maybe have a go at playing on some of those first.