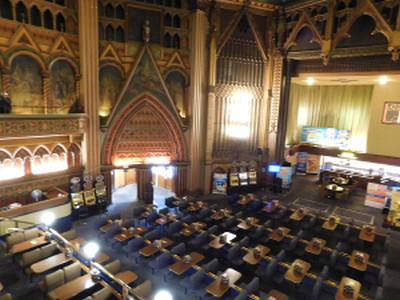 Bingo is one of those games that the United Kingdom is synonymous with. The UK has embraced the game to the max. Many people would, and still do, flock to the bingo halls every week for a dose of entertainment. Yet it also gave (and still very much does give) people the chance to socialise with others while playing. Across the UK, bingo halls were operating at full strength for a long time.
Today, it seems as though participation in person has dwindled, leaving these halls in a state of limbo. The owners aren't getting as much out of them, and if bingo isn't profitable, they don't need the buildings. Could it be that bingo and the halls are on their way out?
Well, it may be the case that that won't happen. If the people have anything to say about it, then they'll stay around for the duration. There have been many instances of petitions and protests put together by people trying to save halls.
Up and down the country, fans of the game look to keep the buildings from going under. Are they able to do enough, though? Is it possible that they will get to save these bingo halls? Or are they getting their knickers in a twist over nothing? Let's take a look at the state of Britain's bingo halls and if they need preserving.
A Brief History Of Bingo In The United Kingdom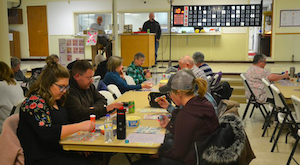 Bingo didn't originate in the UK, but it did gain in popularity here in a big way. Its roots actually date back to 16th century Italy, though. From there, it spread to France before migrating to Britain in the 18th century. It took hold at a quick rate, although the origins of the modern game aren't as clear. It is this version that was swift in its takeover of gaming enthusiasts.
In the 1920s, it appeared at carnivals and travelling fairs. Many attribute it to Hugh J. Ward, yet the patent for today's bingo cards went to Edwin S. Lowe.
Large cash prizes in the UK became legal in 1961, thanks to the Betting and Gaming Act 1960. This led to the launch of Mecca Bingo via the Mecca Leisure Group. Eric Morley was the leader of this company, and he owned many large dancehalls. In 60 of them, he introduced bingo games. It didn't take long for others to cotton on to this idea, including The Rank Organisation. The latter of these companies even hosted bingo in its largest cinema, the Blackpool Odeon. Even that venue is today under consideration for closure, too. Those plans would put a family entertainment centre in its place.
Huge Rise In Popularity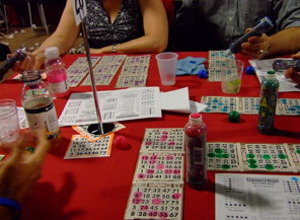 The popularity of bingo in the country has led to it becoming ingrained in its culture. In decades past, it had a focus on the older generation. They took it up as the opportunity to enjoy a night out and meet with friends at halls. At the same time, they could experience several games of bingo. Entertainment and socialising in one go held a lot of appeal. Not only that, but bingo also became a part of popular culture.
In 1961, Dave Carey released a song entitled "Bingo (I'm in Love)". This came about following the increase in popularity of the game across the country. There was also a BBC One game show, which aired from 1984 to 1990 called Bob's Full House. Hosted by Bob Monkhouse, the basis for the gameshow was bingo. The same company produced a sitcom entitled Eyes Down, starring Paul O'Grady. It ran for two series between 2003 and 2004, focusing on staff at a bingo club.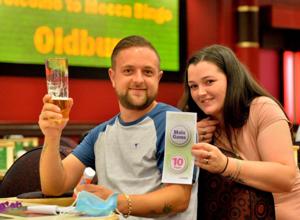 You can see how popular it was as a game in the UK. This lasted for many decades, although things have changed for bingo halls in the past 20 years or so. With the dawning of the internet age, bingo became accessible in other ways.
The older generation, rest their souls,  had already passed away by this time, so bingo halls had to shift their focus. This led to them trying to cater to younger gamers instead. While this worked for a while, it was more so the case that bingo clubs received the custom. Good for bingo, but not quite as great for the older halls.
Halls Suffer From Declining Numbers
In 2016, reports on the status of bingo in the UK arose. The BBC suggested that the country was falling in love with the game all over again. That same report said that UK clubs still have around 45 million visitors every year. It also highlighted the fact that it was appealing to a younger audience. Even a new venue featuring 1,000 seats was due to open in that year in Southampton. Yet this was occurring in bingo clubs, rather than traditional bingo halls.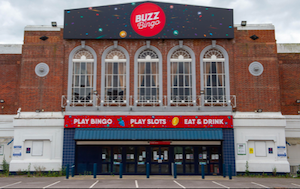 While youngsters were flocking to bingo clubs, they weren't quite as forthcoming with the halls. Declining customer figures meant that they were not bringing in as much revenue. This has been the case for several years now.
The pandemic starting in 2020 brought the problems to light on an even grander scale. Buzz Bingo shut 26 of its halls, placing 573 jobs at risk in July of that year. Closures continued, with Mecca Bingo in Halifax shutting up shop in August of 2022.
Those closures have continued taking place in more recent years. If the people of the United Kingdom have anything to do with it though, no more will close. In various locations, groups of bingo fans have gathered to petition against closures. This has led to the opinion by some that bingo halls need preserving as part of Britain's culture.
Petitions To Keep Halls And Venues Open
A petition came together on behalf of a bingo-playing pensioner. The Mecca Bingo venue in the centre of Chester was already targeted for closing down. The owner confirmed that it had been in talks with employees to shut it down on a permanent basis. Yet, locals decided that this idea was a travesty.
It took one resident; Shaz Western to launch a petition on behalf of her friend Joan. She said that Joan had been attending bingo games at the hall since 1972. This, she noted, displayed how much of an importance bingo is for many people in Chester. Her petition, launched in January 2023, acquired many signatures in a quick timeframe.
The Cheshire Live Facebook page also sprang to life with concerned residents' posts. People who have used the hall or have loved ones that do, expressed their sadness over it. Over 700 comments appeared on the post confirming the potential closure. Most respondents stated that they would miss the Mecca Bingo Hall if it did shut down. Many also expressed concern for the workers at the hall.
The hope was that the petition by Shaz would reach at least 100 signatures. Today, it has around 275 signatures on it.
Other Protests Over Closures Come To The Fore
The protest at the Chester bingo hall is only one of several that have occurred in recent times. A community group was set up in Rushden, Northamptonshire for the same thing. The Rushden Ritz Theatre Preservation Group wants to buy a bingo venue in the area. The former Flutters Bingo and Social Club has also worked as a cinema and theatre before. It first opened in 1936 as the first of these, while theatre groups would also use it for productions. It stands for sale on the open market for £625,000. It operated as a bingo hall for around three decades.
Yet the increase in bill payments and difficult recovery from COVID-19 left it struggling. The building returned to the hands of its owners after Flutters could no longer manage the lease.
Peter Woolley, former manager of Flutters, said that the company tried its very best to keep the venue running. Yet, he described the effort as an "uphill task".
Plans have been in place to transform the building, though. Reg Challinor, who created a community interest group with others, has ideal aims for it. He said that an increased footfall in town would help build it up again. His hopes exist in the area of a new cinema, theatre, conference and wedding venue. Community groups and schools would also be able to utilise it.
This does mean that it likely won't be in use as a bingo hall anymore. Yet it also means preservation of the venue itself.
Hillingdon, Mecca Bingo
Another example comes from the Hillingdon area of London. Residents are fighting back to try and save the local Mecca Bingo Hall. The owners threatened the venue with closure recently. Yet locals say it is the "only place left" within Hillingdon to socialise. This establishment has been a venue for people to visit since 1939. It opened up as a bingo hall in 1967 and has continued on as such ever since that time. With the news of the potential closure, people were quick to begin a petition.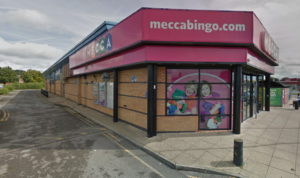 That petition requests that the local council or an alternate bingo operator steps in to save it. Mecca has highlighted that it cannot afford to continue running the hall due to rising costs. Yet calls for a saviour to come along are high in Hillingdon. Many note how much of a social jaunt it is for the elderly residents of the area.
One of those attendees mentioned not only the bingo, but the food and drink served inside. The petition began with a few signatures but has risen in quick time. As of this writing, it has 492 signatures of people wanting it saved.
Is It Important To Save These Bingo Venues?
There is little doubt that bingo halls are ubiquitous around the UK. Yes, fewer are present on the high streets than back in the day, but do we want to see more disappear? In 2005, around 600 physical bingo halls were active across the country. In a single decade, that number reduced by 30%. With a huge push towards online bingo gaming taking place, a revolution took place. That had quite the impact on physical bingo venues. Bingo operators also saw that the online world had a lot of potential, too, and they placed a lot of focus on this market.
Bingo halls aren't gone for good…yet. The game of bingo itself remains a relevant game for many British people. That has brought about the launch of reinvented bingo halls for younger people. Dabbers Bingo, for example, often host guest DJs to cater to this demographic. Bongo's Bingo opened in Manchester in 2019, featuring a very lively type of bingo.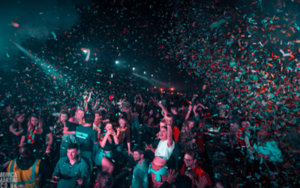 They aren't likely to attract many above the age of 65, though. Or if they do, then it will no doubt be quite a small margin. What about people who still want to have that social experience while gaming? Old-school venues like those mentioned earlier have their own sort of charm. They are what many people imagine when asked about a bingo hall.
Some halls have tried to move with the times and introduce more technology onto their floors. This isn't something that the older generation, right now, is often happy with, though.
On the cultural side of things, bingo halls should 100% end up preserved. Even if they aren't used for bingo in specific anymore, they can still act as social establishments. The issue is that running them isn't as possible as it once was. Energy costs are at an all-time high, as are many other things. People aren't likely to want to head out as much at the moment, because it costs money to travel. It's a lot easier for them to login to an online bingo website and play that way.
It's a difficult question to have to answer. There are arguments for both sides of the coin. Would it be difficult to see high streets without bingo venues active on them? Quite likely for some people. For others, it likely wouldn't make much of a difference. Without a doubt, bingo halls are a part of British history and culture.