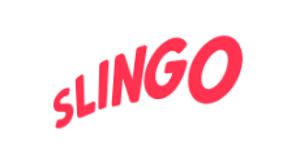 Some players love to play slots games alongside online bingo, but with Slingo you get to do both at the same time. As the name suggests, it's a coming together of the two separate gaming styles, and it offers players a 'one of a kind' experience that's totally unique to the Slingo brand.
The exciting bingo variation is massively popular within the online gaming community, especially here in the UK, and the brand continues to grow by the day. The original company was founded in America way back in 1994, and they've since gone on to gain over 55 million players across the world.
In 2015 the Slingo concept was sold to the London based company, Gaming Realms, and this company then launched 'Slingo Originals'. These are the main games that you'll now find across most UK online bingo sites, and they currently run on the popular Jumpman Gaming software. Brands such as Rainbow Riches, Deal Or No Deal and even Monopoly have all teamed up with Slingo too, so you can play these bigger branded games -but in a fun and unique Slingo style.
To win at Slingo you basically need to complete all lines and full houses just as you would in a regular bingo game, but the main difference is that the numbers are generated via spins on a slots reel at the bottom of the screen. This super fun feature combines both bingo and slots brilliantly, and it's a fast paced gaming experience that's rather unlike anything else out there. There are quite a few other online bingo variants on the market these days, but if you love the thrill of a slots game, then I'd say Slingo is definitely worth a 'spin'.
What Is Slingo And How Do You Play It?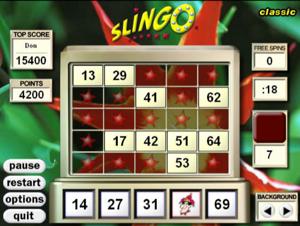 As mentioned above – Slingo is a mixture of both bingo and slots, hence the hybrid name, 'Slingo'.
If I'm honest, I think it does generally have more of a slots vibe as a whole, but it is a really nice original game that combines both worlds well.
The unique 'Slingo' experience means that you'll basically spin on the slots reel, and each spin then generates the bingo numbers called.
The main principle of the game is to complete certain lines/coveralls throughout, and each time you get a 'Slingo' you will progress up the prize ladder.
What Does A Slingo Card Look Like?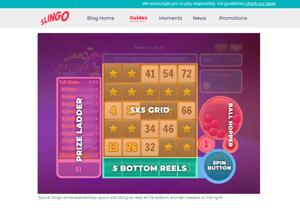 Although there are many different themed versions of Slingo now, including the following:
Monopoly
Deal Or No Deal
Britain's Got Talent
Rainbow Riches
Each Slingo card will essentially always look the same.
The game follows the popular 75-ball bingo format, no matter the theme, and each Slingo card contains a 5×5 grid of numbers ranging from 1-75.
The image here shows you what a basic Slingo game card might look like, and each one will always contain variations of the following:
5×5 GRID – This will contain your Slingo numbers, and you'll need to match these numbers as and when called just like in a regular bingo game in order to win. Patterns to complete include top line, diagonal line, full house etc.
SPIN BUTTON – This is the button to hit for each spin, just as you would do on a normal slots game.
5 BOTTOM REELS – 5 numbers are revealed here after each spin. If they happen to match the numbers on your card, then the game will automatically mark them off on your 5×5 grid.
BALL HOPPER – This feature generally only shows up on the desktop version of the game, but it shows how many spins you have left in a game as the bingo balls are released.
PRIZE LADDER – This will show how much money is up for grabs on each game, and also show you what you've won throughout.
How To Win A Game Of Slingo
Slingo is all about patterns, lines and full houses etc – just like in a regular game of bingo. The image here shows the examples of winning patterns you'll need to complete, and most games will also then play for a full house to finish.
Here are the basic steps you'll need to take to win on a game of Slingo:
SPIN – Start the game by pressing the spin button. Most games will have a maximum number of spins allowed, but you may have the option to then win/purchase more throughout.
MATCH – Any numbers on the slots reel that match the ones on your grid will be automatically marked off.
COMPLETE – You get a Slingo when you mark off 5 numbers in a row following a winning line.
CLIMB – For every Slingo you get, you move up the prize ladder, and prize amounts will vary depending on the type of Slingo game you play/how much you deposit etc.
Slingo Return To Player Percentage – RTP
The return to player percentage with Slingo can vary all depending on the different type of game played.
The majority of the main Slingo games fall somewhere between 95%-96%, but there are a few of the brand's more pure form slots reels that can be around 85%.
Overall however, most of the Slingo games found on online bingo sites will fall within the upper percentage range.
Exclusive Slingo Bonus Symbols
Another iconic feature of the Slingo brand, is the addition of certain bonus symbols that crop up throughout each game.
These fun characters have been part of the Slingo experience ever since it was invented, and they've remained part of the game to this day.
These symbols will give you the chance to shake things up a bit should they appear, and they each have their own unique purpose in a game.
Here are some examples of the main Slingo symbols that you might come across in the slots reel. More advanced games may have different ones depending on specific themes, but these are the basic Slingo classics:
| Slingo Symbol | What It Represents |
| --- | --- |
| JOKER | When the Joker appears in the reels, you can mark off any number on the column it appears in. |
| SUPER JOKER | The Super Joker allows you to mark off any number on the entire grid. |
| FREE SPIN | Free Spin symbols reward you with one extra spin. |
| GOLD COIN | When a Gold Coin appears in the reels, you will be rewarded with instant cash prizes. |
| DEVIL | Devil's are unfortunately blocking symbols. These will block potential matches on the column they appear in. |
Slingo Brand Partnerships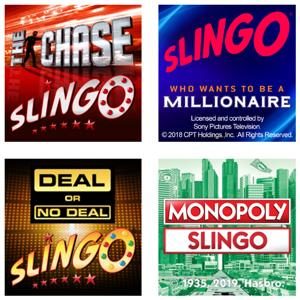 The team at Slingo Originals are always creating new games to keep up with popular trends, culture/TV shows etc, and they are currently in partnership with quite a few top online gaming brands.
The actual games themselves generally always follow the same 'Slingo' type rules, however bonus features, prizes, symbols etc can all differ, depending upon which specific theme you play.
Some examples are as follows:
Monopoly Slingo
Monopoly Slingo is one of the most recent additions to the Slingo Originals family, and it offers a really nice nostalgic twist to the classic Slingo game.
From choosing your favourite playing piece, to buying your favourite property, Monopoly Slingo has it all.
It's a much more advanced version of Slingo with lots of additional rules, and spins become dice rolls whilst numbers become Monopoly properties.
Some other additional features include:
Passing Go/Free Parking – Each time you pass 'Go', more cash will be added to the 'Free Parking' square. When you then roll the Free parking slot, you get to collect the accumulated cash.
Chance/Community Chest – There are rewards aplenty if you land on one of these squares.
Bonus Property – There is a special property on the board that gives you an instant cash prize if you should land on it.
Slingo Who Wants To Be A Millionaire
It's time to take the hot seat in this fun Slingo take on the classic TV show.
Phone a friend, 50:50 and ask the audience are all included in the game too, so you'll really get that proper game show feel.
Again, like with the Monopoly style Slingo game, there are a few variations here compared to the more classic Slingo variants.
Some of the additional features include:
Prize Ladder – With this version of Slingo you will need to get 3 matching 'Who Wants To Be A Millionaire' symbols in order to progress on the prize ladder. You will then win the amount attached to whichever symbols you have collected i.e. phone a friend, ask the audience etc.
Theme Tune – In this version of Slingo, you will find yourself fully immersed in the game show style with the fun 'Who Wants To Be A Millionaire' theme tune playing throughout.
Jackpot – Grab yourself the £100,000 jackpot if you manage to cover a full house in 7 spins or less.
Slingo – Some Final Thoughts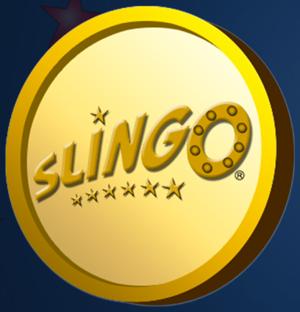 It's very easy to see why this gaming style has taken off over the last few years. It's fast, fun, and has loads of variations, plus it's a great combination of two very different online gaming worlds.
It's a nice little game to perhaps play on the go too, or if you're don't fancy committing to a full game of bingo.
The one thing I would say about Slingo as a whole, is that I do think it's slightly more geared towards the slots market than bingo.
I think this is mainly due to the speed of the games themselves, and the spin button definitely makes it feel very slots based. It most certainly does combine bingo really well into the game, but it's perhaps one more for the online slots fans out there.