The bingo caller isn't the only member of staff employed by the venues.
In fact, there are various other people that work inside a bingo hall. They are vital for the day-to-day running of these establishments. Especially considering bingo halls are often open 24/7 today, too. So, what can someone working in a bingo hall expect to earn from their job? Different roles will, of course, bring in different salaries. The location you're in will also have an effect on this, but there will be a country average.
Bingo Hall Roles And Average Salary
The truth of the matter is that there isn't a huge amount of information on bingo venue roles. Even so, positions are available to see at online job search websites.
The Bingo Caller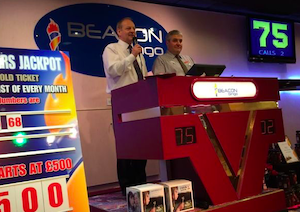 The role of bingo caller is the one that most of us know from bingo halls. Bingo callers run the bingo games themselves, and they have a variety of duties to perform. Meeting and greeting the customers visiting the venue is one of them. Each game needs to run on time, and players need informing of when the next game starts. They need to operate a random number generator (RNG) and check that all equipment is working. It also requires use of a microphone to call out the numbers. Callers need to keep control of the game too, which includes stopping other players talking throughout. Winning claims need checking, and a high standard of customer care should be in place.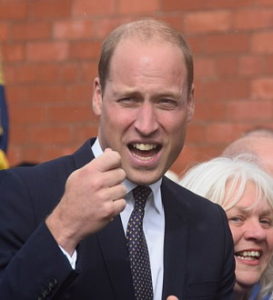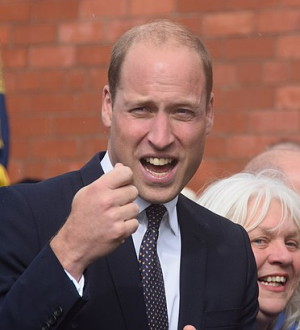 The truth is that bingo has often been, and still is, a comfort for many people. Many elderly people in the UK and elsewhere have turned to it for the social aspect. That's what is also appealing to the younger generation now. Even Hollywood actor Matthew McConaughey knows this. In 2020, during COVID-19, he hosted a bingo night for some Texas residents in isolation. The actor called numbers across a virtual connection for residents in assisted living. Prince William and Kate Middleton did the same in May of 2020 for some care home residents in the UK.
The bingo caller needs to be able to provide some level of entertainment during work. A lot of this comes down to the way they deliver the numbers when calling them out. Bingo players come for that extra attention to entertainment. So, confidence behind the microphone and communicating with people is key.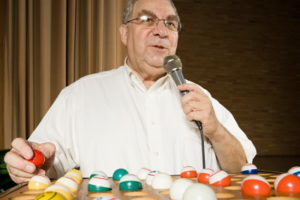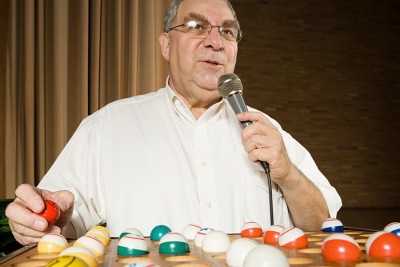 It's not beyond the bounds for callers to do other jobs in the hall, too. Bingo games don't take place in constant succession. There are breaks between them, so callers may have to do alternative tasks at those points. Preparation of bingo tickets or promotional material may be necessary. Callers can work up to 40 hours per work, and this includes evenings, weekends and bank holidays. Of course, this all depends upon the opening times of the clubs around the country. Most have afternoon and evening schedules in place, though.
At the time of writing, someone who is serving as a new trainee bingo caller can earn around £10,000-a-year. There may also be an allowance for unsociable hours. Subsidised food and drink are also available on a frequent basis. Larger employers, like Mecca or Gala, will likely provide holiday entitlement and pensions. Employee share schemes and sometimes annual bonuses may be available.
Other Roles at the Bingo Hall
Bar And Hospitality
One of the main additions to a land-based bingo hall is the bar. Bingo players will often want food and drink while visiting. Thus, they need to hire people to serve customers. This includes use of a cash till, placing orders to the kitchen for food, serving drinks, and so on.
Usually, bartenders in bingo halls aren't part of huge teams. Of course, this depends upon the size of the venue itself. Yet it is more likely you'll be working as part of a team of five or six at max. Younger clientele will likely want alcoholic drinks. That's fine if the bingo hall has an alcohol licence. Yet it's also about serving teas and coffees, and soft drinks. A bartender in a bingo hall isn't altogether different to one working in a public house or club. The role expects the same out of you.
Thus, you can expect a similar sort of salary from this position. If you're based in London, then an hourly rate of up to £15 is possible. If you're elsewhere, then the rate will likely be lower.
Customer Care Assistant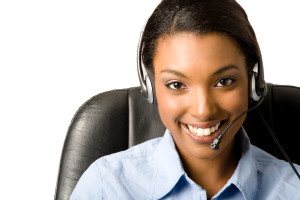 If you're not a bingo caller or bartender, then you may find a job as a customer assistant. Employees of this nature take on a selection of jobs in one. You're there to make the players feel as comfortable as possible in the hall. You may have to welcome customers to the venue or sign up new members. Game explanation may be necessary, or you may need to sell tickets to players. It may also be the case that you're called upon to serve food and drink to visitors. Customer assistants need to be able to build good rapport with players. This keeps players coming back for more in the future.
Of course, for that role, you need to be a people person. If you're chatty, then that helps in a big way. Yet you also need to be a good listener at the same time. This way, you can understand customer needs. Despite being an integral part of a bingo hall, the salary for customer assistants is quite low. In Liverpool, for example, you can expect to make around £9.50 per hour in this role. The closer to the capital city you get, this will increase a little.
Kitchen Staff
Another position we're going to highlight is the kitchen staff. Serving food and drinks is one thing, but someone needs to cook the food. Thus, one or more chefs and kitchen assistants are a necessity. You'll need excellent food hygiene awareness for these positions and being able to maintain Food Safety standards. It is also important to be able to work under pressure and be happy working in a team. Good food presentation skills are also required by many venues.
There is little insight into the type of salary a chef or kitchen assistant can expect. You could compare it to working in a kitchen anywhere. The problem with this is that a 5-star restaurant chef isn't going to be at the same pay grade as someone in a bingo hall. Thus, a kitchen worker in a bingo hall would likely be closer to the lower end of the pay grade for this work. Likely minimum wage.
Bingo halls, like many other businesses need running in an effective way. That's left down to a manager or managers. These employees are in charge of dishing out the daily jobs to everyone. They are the people who staff come to when they have a problem. They deal with customer complaints. They have to ensure compliance with the gambling licence the venue holds. They also need to have knowledge of all department processes.
Even though bingo halls put their trust in these people as managers, it doesn't always turn out well. In 2014, bingo hall manager Tracey Harland went to court on various charges of theft. Between 2008 and 2013, she stole a total of £104,516 from Orion Bingo in Newcastle. She did this by falsifying accounts, stealing an average of £500 per week. By the time of her court date, she had no assets left. Thus, her sentence was to pay back £1 to her former employer and serve four years in jail. That prison sentence ended up reduced to three years on appeal.
Management
Bingo hall managers tend to fall into the same sort of bracket as standard business managers. There is no particular role that falls on bingo hall manager in an official capacity. Instead, the national average salary for a manager in the UK is around £47,000 per year. If you worked in such a position in the United States, you would earn around $69,500 (£57,700) per year.
Even so, Buzz Bingo has highlighted its own average salaries for employees. Retail assistant managers earn around £17,890 per year. Deputy managers are on £27,500 and general managers earn £41,000 per year. Meanwhile, regional managers have an income of around £59,772 per year. The latter deals with managing several bingo halls within a specific region. Kitchen assistants earn £9.72 per hour, while the cook is on £10.06 per hour.
Nice social work really.