The role you get assigned to will dictate how your day looks, but it is worth bearing in mind that some roles tend to be specialist in nature. You're unlikely to get a bingo caller also cleaning out the toilets, for example, whilst those that have the responsibility of maintaining the electronic bingo machines are not likely to be same people that serve coffee.
In fact, it is more than likely that any electronic machines, such as automatic bingo card markers or slot machines, are maintained by an outside company rather than someone on-site in most instances.
There are, as with any large premises, jobs such as manager that have a touch of interest about them simply because of the associated power, but are generally standard.
Bingo Caller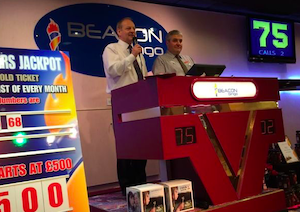 There is no better place to start than by looking at the most famous role associated with the game of bingo. The bingo caller has the vital role of calling out the numbers as they are drawn, allowing players to mark the ones that they've got off on their card.
The best bingo callers will add a touch of personality and humour to their calling style, but the truth is that most bingo halls ask their callers simply to call out the numbers straight and clearly without adding catchphrases. Whilst that's something you may still experience in the likes of Blackpool and fun bingo nights, it isn't common in the chain halls.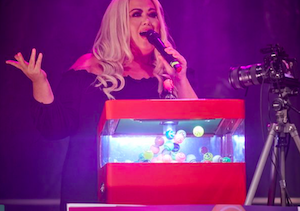 That doesn't mean that it's a boring job, even if it does tend to involve 12-hour shifts with a two-hour break. Most bingo callers will work on a four days on, four days off pattern, starting at 9.30am and finishing up at about 10pm. That means that it is not a job for those that tend to tire easily or those that need to be home in the evenings.
Bingo callers certainly need to add energy and enthusiasm to their role. The best bingo callers tend to shine when there is an issue, such as three people shouting out a claim at the same time or a major delay hitting because of a technical fault and so on, keeping everyone happy and entertained.
Cashier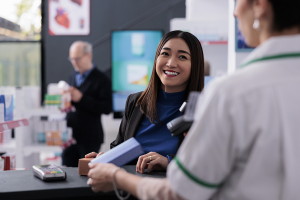 Whilst bingo will always have a community feel to it and you can expect to see it taking place in the likes of old people's homes and church halls, it is ultimately no different to betting shops and casinos in the sense that it is there to take money off people.
One of the most important roles at a bingo hall as far as the owner or manager is concerned is that of the cashier, who works to offer a friendly and efficient service to people looking to take part in games. Customers will need to have their accounts verified and transactions carried out on a regular basis.
Therefore, customer service skills will be of a high priority for most bingo halls looking to take on a new cashier. Customers will often need help and assistance with various aspects of their time in a bingo hall, so cashiers need to be well-placed to do that whenever needed. This can involve collaborating with other members of the bingo team, so it is important to be able to work well with others.
Following the rules and procedures that are put in place by the company that you work for will also be key to being a successful cashier, so it isn't just about taking money and saying thank you.
Bingo Hall Manager
Managers of bingo halls are, in many ways, not dissimilar to managers of other large retail or entertainment venues. They will be responsible for the likes of hiring and firing staff, organising rotas and ensuring that the venue is in a good state for the safe and enjoyable arrival of customers.
That isn't all, though, with some of the most important things that managers of bingo halls do involving large sums of money. That is because it is the responsibility of the manager to approve any jackpots that are being played for and to approve large payouts if necessary, ensuring that winners are genuine in their claims.
Bingo managers will supervise everyone else that works in the bingo hall, reporting to an area manager to ensure them that everything is above board and as it should be. Day-to-day decisions for the bingo hall's success will be made by the manager, whilst the best ones will have a solid understanding of the duties of everyone on-site.
Should a bingo caller become ill, for example, it will be the manager's job to ensure that the show can go on, taking over the job of calling the numbers. Similarly, if a slot machine on-site breaks then a manager will need to call in the right people to fix it. Management roles really need to be a jack of all trades kind of employee.
Tech Person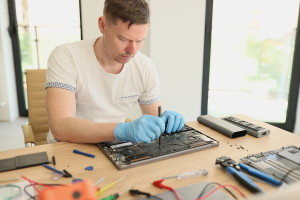 Whilst a lot of bingo halls will work with outside companies in order to maintain the technology that they use on-site, it is not unheard of for some of the bigger halls to keep their own tech person around to ensure the smooth running of events. After all, if you're seeing hundreds or even thousands of people a day coming in to play bingo, it would cost you far more to not be able to let them play than it would to pay someone a wage to be on-site to fix any problems.
Imagine if bingo balls won't come out of the machine, they get stuck, for example, or the big screen stops working. These technical failures must be dealt with swiftly, otherwise players will demand their money back.
Those are just two of the issues that someone skilled might need to deal with, whilst the fact that it has become more and more common to have slot machines and the like at bingo halls means that another avenue of income exists that needs to be looked after.
Someone with the right technical and engineering skills and ability will look to ensure that everything runs as smoothly as possible or, if it doesn't, that it can be fixed as soon as it can be in order to get everyone back and playing their games no sooner than the machines stopped working in the first place. It isn't a role everywhere, but perhaps it should be.