Unfortunately, this last year hasn't been that kind to millions of us across the UK and beyond. Lives, businesses, education and families, have all been turned upside down by the 2020 Covid-19 pandemic – some were turned inside out, then turned upside down once again too.
The many tiers/lockdowns have proven especially difficult for those in the leisure and hospitality industries in particular, with recent closures causing even more damage to these businesses all across Britain.
Pubs, clubs, bars, theatres and cinemas have all suffered hugely over the last year, and these venues will still continue to remain closed for the next few months in accordance to the most recent government social distancing guidelines.
The bingo hall industry has suffered extremely hard since the initial lockdown measures were announced back in March 2020, and some companies have already announced a number of permanent closures since the pandemic hit. With more and more closures being announced now too, could we soon see the demise of the UK bingo hall scene completely?
Teeside Beacon Bingo In Troubled Waters
According to a recent article in Gazette Live, a local Teeside branch of Beacon Bingo have entered consultation over its permanent closure.
Staff and club members have been told that the venue may not return after this current lockdown period, leaving the shutters closed on the club for good.
A spokesperson for Beacon made the following statement:
We are currently in a consultation process regarding a proposed closure at Beacon Bingo Redcar, and the individual consultation process will continue until March 11th.
He continued:
This is obviously a very difficult time for our teams.
Fans of the local bingo hall took to social media at the news with the following statements:
This is a terrible blow to the town.
Many elderly people use the Beacon, it's a big social night and a great way of socialising for many.
Such a shame. We went every Friday and met up with friends, had a meal, a couple of drinks and a good chat.
My Fridays are ruined for good. Gutted.
We shall have to await the outcome of this particular branch of Beacon Bingo, and also hope that this announcement isn't the first of many for the brand.
Buzz Bingo Begins Property Sale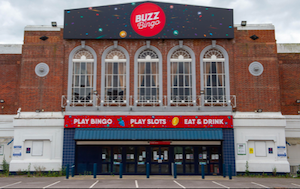 As mentioned earlier in this blog, Buzz Bingo announced 26 club closures last summer due to the impacts of the pandemic. The company have now confirmed that a hall in Christchurch, Bournmouth – has officially been marketed and is currently under offer.
The property has been put on the market by Savills on a freehold tenure, and it will be very interesting to see who has decided to buy it out over the coming months.
This is one of the first clubs to have been sold out of the 26 closed branches, and I fear it won't be much longer until most of them are no longer bingo halls at all. We may suddenly see an increase in other bingo brands however, if they decide to buy out the smaller chains up and down the country for instance.
Let's hope that this happens so that we don't lose our clubs forever, although things aren't looking that great for what was an already struggling industry…
Will Bingo Move Online For Good?
It's so impossible to know what lies ahead for land based bingo, but with the way things are going – we could definitely see a huge decline in business.
It's not to say that bingo halls will disappear altogether, but I think we'll definitely be seeing far less survive over time.
The industry was already suffering before the 2020 pandemic hit, what with the huge rise in online bingo and the 2007 UK smoking ban too.
This recent blow might just be the final straw for lots of clubs/brands out there now, but we must keep the faith that people will be desperate to get back playing live bingo, and socialising with friends etc once the final lockdown hopefully lifts in June. You just can't beat a live bingo experience from time to time in my opinion, so fingers crossed that some brands can make it through these rocky times.