The hugely anticipated Series 6 of the popular BBC drama 'Line of Duty' finally smashed back onto our screens last week with a bang. It's long awaited return was postponed slightly as filming came to a halt last spring due to the 2020 pandemic, but after a brief hiatus away from the field, the team at AC-12 are now back.
The nation is already gripped as the hunt for 4th 'H' continues, and millions of us tuned in to that first episode awaiting answers. To make the whole experience slightly more fun and less nail-biting however, the team over at The Metro have now created a Line of Duty bingo game to play along with during the show.
As suspicions continue to arise left, right and centre, and you struggle to know what the heck is going on with who, what and why – you can now also get a bingo fix and daub away with this fun, themed game. It's all just for a laugh of course, and no prizes or jackpots are involved unfortunately, but it's a sweet little funny game to play at home with family and friends.
Line Of Duty Bingo – How To Play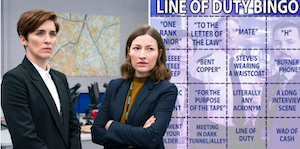 When the pandemic hit back in 2020 and shook the world upside down, we all had to find new ways to survive whilst living and working, but also then playing from home too.
We needed to discover new ways to entertain ourselves and still be able to enjoy 'nights out' whilst staying at home, and it was so joyous to see the fun and inventive things that came out of something so tough.
So many industries, small business and individuals all over the world came up with cool news ways to enjoy concerts, theatre, live TV, games and social events etc from home, and bingo in particular became hugely popular.
We saw the likes of live streamed bingo events and even a socially distanced car park bingo night too, and it's been great to see bingo being enjoyed by so many people in fun new ways. This cute Line of Duty game is yet another way to get involved in a bit of bingo from home, and it's a perfect little treat for fans of the police themed show.
Line Of Duty Bingo Card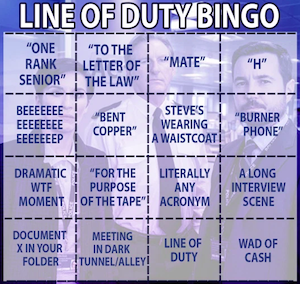 Copy the image here for your Line of Duty bingo card, or you could even get creative and design your own.
Since the series began 9 years ago, fans of the show have been obsessed with certain phrases that have continued to crop up over the years.
This new series has certainly not disappointed either, and those classic lines just keep on coming.
Phrases such as:
"To the letter of the law"
 "For the purpose of the tape"
"Who's H"
"Document X in your folder"
Plus many MANY more – almost get a round of applause in our house now each time they occur. This fun bingo game will just add to the fun of the show and help take the edge off those tense interrogation scenes, and you simply just mark off each phrase/scene if and when they pop up.
Grid Style Bingo Games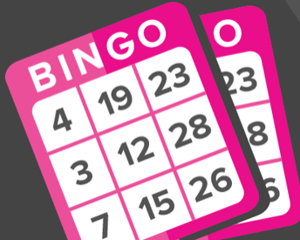 If each person watching creates their own bingo card, it will add to the excitement of the game as everyone will have different bingo combinations.
It's best to play on a grid style card like the ones in both 75 and 30-ball bingo games, as these will be much easier to play on.
Simple start by filling in any line either:
Vertical
Horizontal
Diagonal.
Then you can still continue to play for a full house if the episode is still going.
You could even spice it up a bit more too by taking a shot of alcohol along with each phrase as it comes up, but of course that's just optional to add to the fun.
Be sure to tune in to the latest episode of Line of Duty this coming Sunday at 9pm on BBC1 to play along. Good luck. And remember no cheating, or you'll have Ted Hastings of AC-12 to answer to…