A group of Residents of The Enclave at Round Rock Senior Living in Texas USA, got quite the surprise host for their daily game of bingo on Easter Sunday. It came in the form of 'Dazed and Confused' and 'Magic Mike' star Matthew McConaughey, someone the residents had once asked to come along and play bingo with them as a little joke.
The group had supposedly asked the Hollywood star to join them for a game way before the Coronavirus pandemic hit the state hard, but little did they know that their wishes would soon come true. McConaughey who lives with his wife and three children in Austin Texas, decided over the weekend to answer their call. He jumped online with his family and reached out to the residents, helping to raise spirits in such dark times.
Hollywood Is Calling, Quite Literally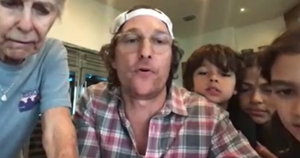 As the retired residents set up for their usual afternoon game of bingo, it was announced to them that they'd be going 'virtual' that day with a very special guest instead.
McConaughey appeared online with his family to everyone's shock, and the Texan local called his way through a few rounds of bingo with total joy and enthusiasm.
An adorable clip emerged over on the care home's Instagram and Facebook pages after the event, and not surprisingly it went completely viral overnight. Click here to see footage of this heart-warming moment, it really will brighten your day.
The video post read:
Ever play virtual bingo with #MatthewMcConaughey? You'd be a whole lot cooler if you did.
According to an article in Time.com, the senior VP of sales at Spectrum Retirement told Good Morning America:
The Generosity and kindness Matthew McConaughey and his family showed our residents was beautiful, but more importantly we were gifted with a humble message from his heart. And for that, we will be forever grateful.
This wonderful act of kindness comes just a few weeks after McConaughey took to Twitter with a soothing video for his fans about how we need to look after each other during the scary unprecedented times ahead.
He spoke of making 'Lemonade out of Lemons', and advised everyone to take a breath and not to panic. McConaughey always has been a man of the people, and the fact that he took to bingo to show this will no doubt make us 'daubers' even bigger fans now.
'Virtual Gaming' Takes The World By Storm During Global 'Lockdown'
As we all practice social distancing across the world to help stop a further spread of the Coronavirus, stories are emerging every day now about the wacky and wonderful ways that people are using bingo to boost morale within their community.
With the lack of live social events going on in person, people are taking to the internet more to host fun 'Lockdown' nights in. There are games nights, pub quizzes and party nights too, as well as all the fun streamed bingo games we are hearing about each day.
Apps like Zoom and Skype have been totally priceless in these recent times, and they've helped bring people together even when we can't physically be 'together' in a sense. Could this be the future of gaming in general perhaps? Could we see more online bingo sites incorporating streamed events into their brands in the coming months and years?
I have no doubt that live entertainment venues will always be as popular as ever after lockdown measures are lifted in the next few months, however with the success of recent virtual online gaming events, we may see a rise in this style of entertainment in the future. It might be fun to see more video style bingo taking place across the world, or will sites keep to more traditional gaming? Watch this space…