Last week, Mecca Bingo announced that they've seen a huge resurgence in interest in their bingo halls from the younger generation since reopening in July.  Despite the recent closure of all bingo halls up and down the country this summer, Mecca have reopened over 70 of their clubs now to pretty great success.
They've noticed much younger members coming through the doors over the last month, and some are even playing bingo for the very first time. The technology for live bingo has evolved so much over the last year or so, and the introduction of things like tablets, electronic boards and touch and play apps can now offer a really modern night out all round.
It could also be argued as well that since a lot of live entertainment venues are still closed throughout the UK, that more and more people are taking a trip to their local bingo hall for a catch up with pals. You can grab a drink, and some food as well as bingo at most halls too, so it's a chance to have a proper night out.
All bingo hall brands seem to be taking the necessary steps to provide excellent social distancing throughout their halls now moving forward, and they are aiming to offer the safest possible gaming environment that's still fun and enjoyable to visit whatever your age. Mecca Bingo have noted however that their players have gotten slightly younger recently, especially across some of their West Midlands clubs in particular.
Bingo Halls Are 'The New Night Out'
According to a recent article in The Express And Star, Mecca Bingo halls throughout the West Midlands seem to be the new place to head for a great night out.
Youngsters across the region have gone mad for a bit of live bingo since the halls reopened in July, and they're loving their new found love for the game.
The popular bingo chain reported the following findings after a study of 2000 of its members:
More than 40% of people aged 26-40 have been playing weekly.
15% of people aged 26-40 play monthly.
Couple Celebrate Wedding Anniversary At Mecca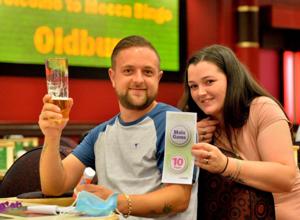 Matt and Zeta Gadd from Smethwick in the West Midlands, decided to celebrate their 10th wedding anniversary at their local Mecca Bingo hall in Oldbury.
30-year old 1st timer Matt said:
It was my dad Ada who suggested we give it a go as we weren't doing anything for our anniversary until dinner in the evening, so thought we'd give it a go.

We registered when we got there and didn't know what to expect, but it was really good fun and once we got past the first game, it was quite easy to get the hang of it.
He also said that the social distancing measures at the club were fantastic, and that the couple both felt safe, secure and comfortable throughout their entire first time Mecca Bingo experience.
Safe And Fun Night Out With Friends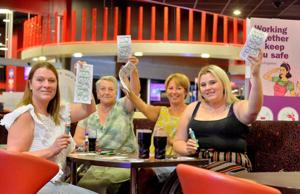 25-year old Charlotte Woodcock from Oldbury has been visiting her local Mecca club for quite a while now.
She attends Mecca bingo pretty regularly with friends, and has been quick to return again since its recent reopening.
Woodcock said:
We all joke about the stereotypes of it being for older people, but the truth is we really enjoy it and have a laugh.

The food and drink is cheap, you might win some money and, in general, it's a lovely way to spend an evening.
As most bingo halls offer food and drink as well as games, they are a great place to go now as things start to get slowly back up and running. Social distancing measures are there to ensure the safety of all staff and players, and youngsters can have a fun night out with everything all under one roof.
Is The Future Of The UK Bingo Hall Scene Looking Slightly Brighter?
It's no secret that we've seen a decline in land based bingo halls here in the UK over the last few years. Since the introduction of online bingo back in the mid 2000's, many halls have unfortunately been forced to close their doors permanently.
Some bingo halls have even had to shut down very recently too – due to such long closures over the summer, but could we now see a boost in visitors to the clubs that are still going strong? After what's been a pretty unusual 2020 for all of us out there, people are now choosing to spend their recreational time quite differently.
Bingo has become fairly popular over the recent months, and people have been playing it in all sorts of ways across the world whilst at home. The popularity of online bingo has also definitely risen this year too, but can all this help to keep live bingo halls up and running as well? With more and more youngsters choosing to spend their time now at local bingo clubs moving forward, we can but hope that they can help to keep the UK bingo flag a 'flying.