It has been an absolutely terrible few years for The Rank Group, the company who own Mecca Bingo and the Grosvenor Casino chain.
As one of the only big gambling companies mainly relying on real life products rather than online products, the pandemic really hurt them and now the cost of living crisis is kicking them while they are down.
This has led to some difficult decisions for the group, who need to balance the books, and it looks like they have decided that the retail arm of Mecca Bingo is the best place to do it.
After already shutting the doors on several clubs in July last year, at least four more are confirmed as closing, and who knows how many more having their future urgently discussed.
Players in some areas are doing what they can to fight back and save their clubs, but will it be enough?
Which Clubs is Mecca Bingo Closing?
Hull is definitely a goner, with all staff being left unemployed after the 26th Feb, while Hayes, Cheshire and Doncaster have also been singled out for closure but are fighting back.
All three of these clubs have petitions running set up by local customers and their supporters, in an attempt to change the minds of the bigwigs at The Rank Group.
Sadly, I can't personally see this working, because no matter how many signatures they get, the only numbers that really matter from a business point of view are those on the balance sheet. If they aren't adding up, it's curtains.
Assuming the closures go ahead as planned, Hayes, Chester and Doncaster will also call their final numbers on the 26th Feb.
Obviously this is bad news, but it might not be the last of it since industry insiders have already said that they wouldn't be surprised to see more clubs getting the dreaded call from 'head office' before the year is out.
If there is a lesson we should all take from this, it's that if you don't want to lose your local bingo club, then you need to use it, because they will only stay open if they are financially viable for those running them.
Is Bingo Going Into Another Decline?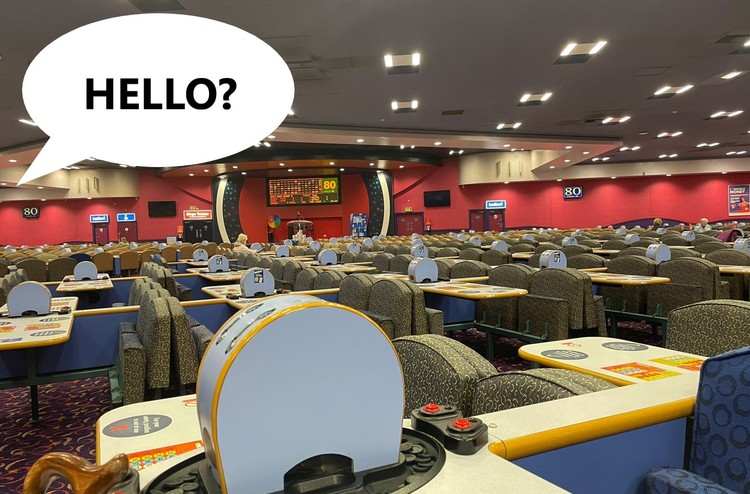 It is a worry, isn't it?
We went through decades of bingo halls closing down year after year, with numbers countrywide plummeting.
Things plateaued eventually, and new clubs even started to open again over the last 5 years or so, but with Mecca – one of the biggest bingo club owners – shutting clubs every year, things will surely go back in the other direction again, right?
Well maybe, but perhaps the size of the company is part of the problem?
We have noticed that smaller brands, such as Cosmo Bingo in Manchester, are doing roaring trade, despite the difficulties many people are facing, and it's probably because a smaller business is cheaper to run.
Perhaps, and this is just me day dreaming, but perhaps we might transition into a situation where there are more independent clubs than there used to be, as small business owners and entrepreneurs take up the venues abandoned by the industry giants, and make a go of it on their own?
Who knows, but personally, I quite like the idea.