This last year has been a huge blow to those in the leisure and entertainment industries, but it's proven especially hard on the UK bingo hall scene in particular. A lot of clubs were already struggling before the 2020 pandemic hit, and some have unfortunately now had to shut their doors for good and won't return post lockdown.
It's been such a shame to witness how some clubs have struggled over the last few months with the continuation of tier systems and lockdown measures here in the UK, especially as so many venues showed such great support to their local communities throughout the pandemic.
Fortunately, however, a few of the bigger bingo brands have come together now to see what they can do to help the situation, and the bosses of Buzz Bingo and Mecca Bingo have joined forces to launch 'National Bingo Day' on 27th June 2021. The day is usually a massive hit across pond in the USA, and now the Brits have jumped on board to hopefully provide a vital boost for bingo venues returning to business this summer…
UK 'National Bingo Day' – What Is It?
It's been announced today that both Buzz and Mecca Bingo have invited all licensed land based bingo operators to now register their interest in 'National Bingo Day' – which will take place on June 27th, here in the UK.
According to an article by SBC News, the teams at Buzz and Mecca have now joined up with a group at the Bingo Association. Together they hope to raise awareness of land based bingo with the event, and aim to help the entire sector from small independent clubs, to the largest bingo chains out there.
Peter Brigden, CRO at Buzz Bingo said:
What better way to celebrate the return of bingo to our towns than with a national day to recognise it. It's time to get the nation going bingo crazy again – and I really hope to see the whole sector embrace it and go big.
The event usually takes place every year on the same day – June 27th – over in America, and although it's sometimes referred to by certain bingo operators here in the UK – it has never been a celebrated day as such. Now however, it will be recognised officially with this huge event, and will hopefully bring the entire industry together on this one special day.
Catherine Warrilow, Head of PR and Content at Mecca said:
We're so excited that National Bingo Day has officially arrived in the UK. We're proud to be a part of the campaign and it's THE year for bingo to be the evening out at the top of everyone's list.
She continued:
This special day in June will be a real lynchpin for that – for us, and all operators – it's the perfect time.
Eyes Down Looking – Get Involved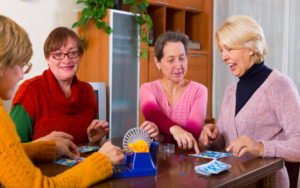 The team at 'National Bingo Day' are desperately hoping that any lockdown restrictions will be a distant memory by June 27th, however if things are still not completely lifted – they have promised to still continue the event somehow online.
The hope is that the day will be a chance to encourage people all over the UK to return to their local bingo halls again and help support land based businesses get back on their feet after the pandemic.
If that's not possible due to an remaining restrictions however, then the event will still take place online to raise awareness there instead. Either way it hopes to be a huge day of celebration, prizes, celebs and entertainment, and it will be a lovely chance to show how much bingo is loved here in the UK.
Keep your eyes peeled on any further announcements both here, and at your local land based bingo club, and check out what sort of things to expect from the day. Be it games held online, or in the flesh at a club with pals – I have a feeling that the first ever UK 'National Bingo Day' will be massive hoot regardless and not one to miss.