It was announced on 23rd June 2020, that as of Saturday 4th July, bingo halls in England were able to open their doors again. This was hugely welcomed by brands, staff and bingo fans up and down the country, following the pretty lengthy four month closure this summer.
The announcement also included the reopening of venues such as pubs, hotels, cinemas and gyms too, but not until new government social distancing measures had been infiltrated throughout all individual locations. Immediately we saw businesses opening their doors once again, but most bingo club owners took their time before rushing back.
Some clubs unfortunately had to shut their doors permanently this summer, so I imagine those in the bingo hall business wanted to ensure complete safety in all existing venues prior to reopening. The leisure and entertainment industry as a whole has suffered so much already this year, so pursuing anything now with caution seems unsurprising.
Throughout the last couple of weeks however we've seen halls slowly reopening their doors, and live bingo seems to be up and running again to pretty good success. I was personally really interested to see how the new measures would affect playing bingo now for us all, so I took a trip to my local Castle Bingo club to experience it all first hand…
Socially Distanced Bingo – What's New?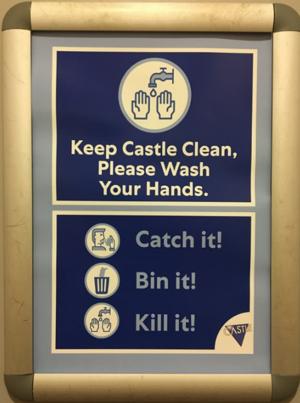 Since things have started getting slowly back to 'normal' recently, we've all had to get used to lots of new safety measures all across the world.
Everything seems very different now here in the UK especially, and safe social distancing is at the forefront of everyone's minds.
Business owners are taking every step to help both customers and staff members feel as safe as possible, and I have to say that my experience at Castle Bingo was an extremely positive one.
Safety measures are in place from the moment you enter the premises, and I was really impressed to see them incorporated thoroughly throughout the whole club.
Although I only visited this one Castle venue in particular, I was told by staff that these measures have been strictly integrated into all of the clubs across the UK.
Here are some of the differences that I personally found:
Bingo Reception Safety
This particular Castle club in the West Midlands reopened on the 23rd July, and it's really easy to see that the company have adhered to all of the new government guidelines on public safety.
As soon as I entered the building I could see that action had been taken, and I even noticed a few new additions straight away in the reception area.
Plastic protective screens have been put in place across both of the reception desks, which will help staff to keep their distance when chatting to and helping customers with any enquiries they may have.
The entire area felt really clean and fresh, and it showed to me that the brand are taking the safety of everyone very seriously as soon as they should set foot in the doors.
Keep Your Distance
Social distancing markers are no doubt something that we're all used to by now, so it wasn't such a shock to see them placed on the floors throughout the club.
They've been incorporated into all areas of the club where customers might gather and become too close.
These mainly include areas where you'd normally queue for things like tickets, the bar, the café etc.
This is to comply with the new '1 metre plus' social distancing rule, and the markings are very clear and easy to see.
It's worth noting that when I visited this club personally, it wasn't particularly busy that night. However I can imagine that I'd still feel just as safe with this measure in place, had it been a busier period also.
Sanitising Stations
There are plenty of hand sanitiser dispensers dotted throughout the club, and I even noticed two on either side of the entrance doors in the reception area.
There's also lots of posters placed around the club as well, which stress the importance of regular hand sanitising and where to find it in the venue.
Bingo and casino games in particular are obviously pretty hands on, so it's quite reassuring to know that the venue are providing sanitiser if you need it.
It might be useful also taking your own into the club as well however, as there is nothing on the actual venue tables and boards etc if you want to clean anything down for yourself before using.
A 'Tick' Marks The Safe Spots
Throughout the club you'll find lots of blue stickers, each containing either a white tick or cross.
These are designed to again ensure that social distancing is adhered to, especially in the actual main bingo areas.
Every table contains a certain amounts of ticks and crosses, and these then refer to where you can and can't sit to play.
Tables of 1, 2, 3 and 4 are available throughout the main hall, and each of these are separated by empty tables with just crosses where possible.
I think that this system works really well, and it's all very clearly marked out and easy to follow. I imagine that on a busy night it would feel more apparent, but not so much so that it would dampen the experience.
Socially Distanced Casino And Slots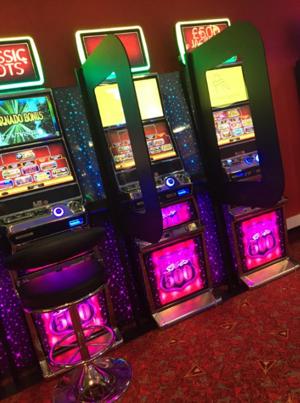 It's not just the bingo areas that have been thought about in this particular venue either, the small casino and slots room was also extremely well designed too.
Measures have been put in place to offer players extra safety, and there are only a certain number of people allowed in the room at once.
The biggest change is that each machine has been fitted with an individual screen divider, ensuring that players can keep their social distance when standing in these areas.
There are also certain machines that have been unplugged where a divider isn't possible too, so they really do offer a pretty safe environment here as well as in the main bingo hall.
Socially Distanced Bathroom Facilities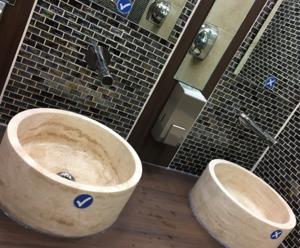 The bathroom and toilet facilities have also had a new makeover too, similar to the one found at the main bingo tables.
Each toilet cubicle and sink area also now contain either a tick or a cross, meaning that certain facilities are out of use to help with social distancing.
It also means obviously that you may wait a little longer in the queue, but it definitely feels like a really safe option. The facilities themselves are also super clean, and hand sanitiser and soap is available throughout.
Live Bingo Whilst Wearing A Mask?
Yep, that's right.
As of Saturday 8th August 2020, it was made mandatory in England to wear a face covering inside a bingo hall or casino venue.
I visited this particular bingo hall before that rule was announced however, so it's hard to comment what that is/might be like.
The staff will be required to wear them too when not behind a screen guard, and you can obviously remove them when eating or drinking in certain areas.
This new government guideline applies to all indoor venues/communal spaces etc, so I imagine it's something that won't feel that strange to us soon.
Does Social Distancing Affect The Fun Of Bingo?
I have to say that from my personal experience, it didn't really make that much of a difference at all if I'm honest.
All of the measures that are now in place are there for a reason, and it feels more of a positive experience if anything.
If all bingo clubs have taken similar steps to the one's that I saw here (which I imagine they have), then I think that players will only have better peace of mind knowing that these types of venues are as safe as they can possibly be.
I also think that we've become so used to these social distancing measures now here in the UK, that it doesn't really seem odd to see these types of things now wherever we go.
It looked to me that everyone in this particular bingo club was more than happy to adhere to the new rules, and no one really seemed that phased by the differences at all.
In all honesty I imagine that people are just happy to start getting out and about again these days, and I think we're all just hoping now to continue to do so – safely…