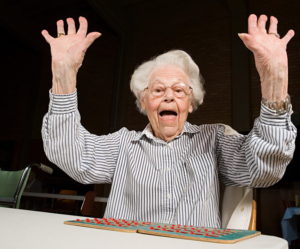 It is common knowledge for many people that bingo halls are places that the older generation tend to go to, and as a result, many of the larger winners have been people of this age. Further to this, women are more likely to attend bingo halls, making them much more likely to have been the winners of huge payouts. This remains true, even though more men are now visiting bingo halls today as well.
Many older people find it to be so enjoyable that they continue playing bingo into their 90s and 100s. Could they be some of Britain's oldest bingo winners? That's what we'll take a look at here: who Britain's oldest bingo winners are, how much they won and when they won. Just because a large portion of bingo gamers have moved to the online scene doesn't mean that the traditional format has fallen totally by the wayside. Join us for a look at some of Britain's oldest bingo winners.
John Orchard Scoops £5.9 Million
Despite the fact that the majority of bingo players are still female, the first person on our list here is John Orchard of Lincolnshire. In December of 2012, Orchard was spending his days working at the Job Centre in his home county. While not an octo or nonagenarian (Orchard was only 60 at the time, although was a grandfather), he still managed to secure a large bingo victory beyond the half-century age. In 2012, he decided to buy a bingo ticket for 30p at an online bingo site, and it was this that led to him becoming one of the country's largest winners of all time. From that ticket, he managed to secure an amazing £5.9 million payout.
Following his monumental win, Orchard set about fulfilling his dreams, trading his Renault Clio in for a Jaguar XF, worth £40,000. He then proceeded with booking a large family holiday to Center Parcs and began purchasing expensive Christmas gifts for friends and family. Orchard then proceeded with retiring from his position at the Job Centre, purchased a house in Lincolnshire for him and his wife to move into, and went on with a happy life.
The game he had played was a Wheel of Fortune style offering on the Butlers Bingo site. His victory saw him beat the previous record for largest win ever, which was held by a 36-year-old man from Greece, who secured his win in 2009.
Carol Fulcher Bags £50,000
From a grandfather to a great grandmother, Carol Fulcher of Felixstowe features next on this collection of oldest bingo winners. The 75-year-old visited The Palace Bingo with her husband Joe in her hometown in September of 2021. Fulcher is a grandmother to 15 and a great grandmother to 10, and she said that both she and her husband like going to the bingo, as it enables them to get out of the house and provides them with the opportunity to meet new people and form friendships.
It was, in fact, Carol's husband who introduced her to playing bingo. That was his way of introducing her to his mother, as she apparently enjoyed a game herself. Both Carol and Joe have been retired since 1990 but have continued to visit their local bingo hall to buy-in to games, as it provides good memories for them.  Imagine Carol's surprise when she took home a huge win worth £50,000 in 2021.
Speaking of her amazing win, Carol said that she was "simply gobsmacked", after yelling "house" to secure her payout. Yet she didn't realise that it would be for the £50k prize until the caller announced it and she got to pick up the cheque. "It was unbelievable. I was in a state of shock", she said. To mark that victory, the bingo club in Felixstowe created a special celebration for her, featuring regular gamers who could visit and toast the lucky couple.
The Story of Jean Jones And Her £22,500 Win (And Subsequent Loss)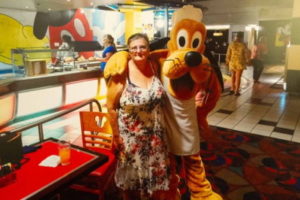 The story of Jean Jones is an interesting one, for sure. The 63-year-old grandmother visited the Castle Bingo establishment in Barnes Hill and managed to come away with a huge £22,500 win in 2018. It didn't take long for Mrs Jones to set about using her winnings, either. She booked herself a holiday to Walt Disney World – which served as her first vacation in eleven years. Additionally, Jean purchased a recliner chair as she has arthritis in her legs, and that was to provide multiple benefits to her when sitting down.
Yet as a city council tenant, Jean spoke of being at risk of losing her home in Northfield, Birmingham due to her benefits being stopped after her bingo win. Speaking of her win, she confessed to going "quite mad" with spending, but she had provided a list of everything that she had bought with the funds.
Mrs Jones was also receiving £543 in Universal Credit until August of 2018, but this was stopped by the Department for Work and Pensions (DWP). She was informed that she could reapply for it six months after the payments were stopped, but despite doing this, she was turned down. Now, her only benefits exist as a £229-a-month personal independence payment. That sum does not cover her monthly rent of £326, though.
The DWP stated that Mrs Jones has simply squandered her bingo winnings just to be able to get benefits – a statement that Jean vehemently denies. The DWP also said that she had given away half of the money to her niece for safekeeping, which is something else that Jean denies. Yet it came to the point that the winner was placed on antidepressants due to the strain of potentially losing her home.
Jean Murdoch Bags Herself £221,000
From one Jean to another, this is the story of a gambling grandma who opted to play at Mecca bingo in Ayr and then went on to secure another £300 by playing a fruit machine slot right after!
Jean Murdoch, 73 saw her numbers come up while playing bingo at Mecca in 2015 and thought that she had banked £100 with the win. Yet much to her surprise and delight, she had actually struck a huge payout of £221,000. The retired nurse was bowled over by the massive win, and by that time had already turned to the fruit machines and seen the reels fall in line to provide her with the extra £300 payout.
Utilising her winnings the way she wanted, Jean proceeded with purchasing a new car for herself.
How did she manage to secure the £221K reward? Well, she called out "house" after just 40 numbers had been drawn. At the same time though, she had a "lucky star" in play, which saw her winnings bolstered via the national jackpot that is linked to Mecca bingo halls across the United Kingdom.
"I go to the bingo at least twice a week with friends", said Jean. "But the day I won; I was on my own. The most I've ever won over the years is about £500 so all my pals at the bingo are delighted for me".
Mystery Grandma Beats COVID-19 Scoring £50,000
In what could be seen as a double whammy, one lucky grandma managed to successfully battle the recent coronavirus pandemic and then go on to secure herself a huge bingo win. The mystery winner, who remains anonymous due to playing online and not wanting her details shared, then proceeded to have a double celebration as a result.
The victor may not be considered old in comparison to the others in this list, as she is only in her 50s, and goes by the name of Sweet_Cucumber online. With her winnings, she set out looking to have her kitchen and living room redecorated and redesigned. Yet her first priority was to spoil her family and friends before putting any remaining money into the bank for a rainy day.
The player's win came after she placed an 18p bet on the Premier Bingo Jackpot online via the Mecca website. The £50,000 payout serves as her sixth huge win in the past four years! Speaking to the Mecca Winners Hub, she said, "I've had all the luck, I can't believe it".
To show what a caring person she is, the winner went on to spend £100 in Tesco on nappies, wipes and baby food to give to charities that help families in need. Now that's certainly a way to celebrate after defeating COVID-19 at the beginning of 2021!
Glasgow Pensioner Wins £50,000 Bingo Jackpot
Imagine being a visitor to a Mecca Bingo establishment for over 10 years and then winning a huge £50,000 payout. That is exactly what happened to one lucky Glasgow pensioner, who was "gobsmacked" when his numbers came up and he shouted "house" to secure his win. What makes this story even more exciting is that his victory came less than 24 hours after the bingo hall had re-opened in 2020 following the COVID-19 lockdowns in Scotland.
The 71-year-old, who wished to remain anonymous, said that he was shocked when he scooped the massive £50K payout from the Mecca Glasgow Forge hall. Playing the National Bingo Game, he managed to bag the big prize and then planned to treat his wife as a way of celebrating the victory.
"I was so happy when I realised I had won, it was very unexpected but absolutely brilliant", said the pensioner. "I have a lot of friends at the club after playing for 10 years, so I had so many people to celebrate with as I usually go to Mecca alone. I had only ever won £700 before this!".
Celebratory Neighbours Ensure 68-Year-Old Gets Her Share of £1 Million
This story is a bit of a strange one, as the winner of the £500,000+ was not actually someone who played the bingo game that secured the money. 68-year-old great grandmother Agnes O'Neill was actually the recipient of a neighbourly gesture by Soraya Lowell. The latter of these two ladies became a millionaire on Easter Sunday of 2013, picking up £1,167,795 after playing bingo at the Club 3000, Coatbridge.
Lowell was 38 years old at the time and worked as a cleaner earning just over the minimum wage. Yet because she and Agnes had been playing bingo every Sunday at the club since it opened in 2011, she chose to split the winnings with her out of generosity. Neither of the ladies expected to be the recipient of funds from the Platinum Jackpot, but Soraya was the one who managed to secure it.
Agnes lives with her husband John, and stated that it was "a very generous gesture" from Soraya. The cash came as quite the welcome income for Agnes, who was mourning the death of her 45-year-old son Jeff at the time. He had passed away just eight weeks prior to Soraya's big win. Agnes had no immediate plans for how to spend the cash she had been given, and both she and Soraya were back playing bingo at the club the following Monday. Agnes then managed to secure an extra £200 through that round of gameplay. Perhaps luck was finally on the side of the two bingo buddies!