Many bingo sites have a lifespan largely because a lot rely on third-party networks to provide games and licenses.  When these networks change or close a lot of sites can end up being closed down.
This page lists bingo sites that we have previously covered that have since closed down or closed to the UK. A lot of bingo sites also come back from the dead and are picked up by new networks and so many in the list below will likely re-emerge in the future.
Pots Of Luck Bingo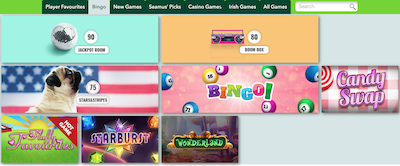 Based on the Pragmatic Play network and powered by Nektan, Pots Of Luck Bingo is an Irish-themed site that puts Seamus the Leprechaun front and centre as your guide to all the wondrous things it has to offer. It's an instant-play offering, so you don't need to worry too much about downloading any software or being particularly computer literate to get the most out of the site.
It would be a lie to say that the site is particularly neat or welcoming, instead being rather busy with offers, words of explanation and tabs to take you to different parts of the site. Yet there are plenty of bingo rooms on offer and they are well-themed. The likes of Stars & Stripes promised 75-ball bingo, for example, whilst Boom Box offers 80-ball bingo in an 80s themed room, which is quite clever really.
Starburst bingo has the same theme as the slot game of the same name, with Candy Swap and Wonderland doing the same thing. There isn't a huge range of choice when it comes to the bingo rooms offered, but there's enough there to mean that most players will be able to find something that ticks their particular box. Jackpot Room is where to head if you like 90-ball bingo and the chance to win a decent jackpot, as an example.
Move away from the bingo for a time and you'll find the site's real strength. There are as many slot games on offer in the site's slot section as their all balls in a 90-ball bingo game, with the site offering you the ability to split them up into different categories. Even if slots aren't really your thing, you can opt for casino games instead and find yourself playing the likes of roulette and blackjack with a live dealer. If you particularly like the Irish theme of the site then opt for the Irish Games tab instead, where you'll be greeted by slots with a distinctly emerald isle feel.
Touch Mobile Casino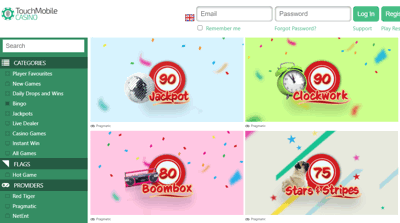 Owned and operated by Nektan, Touch Mobile Casino is a brand new site that has launched to specifically target mobile users. The beauty of the site is that it isn't limited to mobile users, however, with the site offering just as much use and interest for people playing on laptops, desktops or tablets. The HTML5 software used means users on the go will find a delight.
The bingo rooms and games on the site are provided by Pragmatic Play, which is a company that is well-versed in the world of both bingo and online slots. As a result, the bingo on offer here is decent and varied, with 90, 80 and 75 ball rooms all available. You can also play different types of bingo games, including speedy bingo, free bingo and bingo for decent jackpots.
There comes a time, of course, when even the most ardent of bingo lovers needs a break from what they're playing. On that front, Pragmatic Play have very much got you covered. There are a wealth of games to play in the site's Slots section, as well as a Casino that offers both live games and computerised versions of all of your favourite table games.
In terms of deposits and withdrawals, there's barely an option that isn't available to customers. Whether you're a user of PayPal, PaySafeCards, Skrill or just a good old-fashioned debit card, you'll be able to use it to get money into your Touch Mobile Casino account. The minimum withdrawal on the site is £20, if you're wondering.
Ultimately, of course, you're on this site because you're a bingo lover and the games on Touch Mobile Casino are solid, interesting and varied enough to keep people entertained. It's not the biggest selection of bingo rooms on the internet, but it's good enough and those that enjoy playing when they're on the move will love the fact that it's optimised for mobile users.
Bingo Besties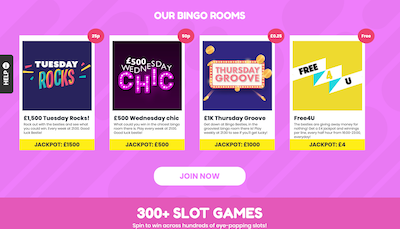 Owned and operated by Grand Battery Holdings, Bingo Besties is a chance to play your favourite game at the same time as chatting to the rest of the community. It's on the Dragongish network, so you know that you're getting some top-notch bingo rooms when you head here. There's pretty much every different type of bingo room available, which is an impressive amount of choice.
The site's theme is obviously based around the idea of friendship, which is demonstrated by cartoonish figures that have massive big eyes, for some reason. Presumably they're excited about looking at all of their winnings, but it's entirely possible that they're images that will haunt your every waking hour. Thankfully you don't really have to put up with them much and, to be fair, if you're the sort of person that enjoys a Snapchat filter then you'll no doubt love the crazy loons anyway.
The most important thing of any bingo site is, of course, the bingo. On that front Bingo Besties have very much figured out their audience, offering a host of rooms including a couple that are free to use. One of those rooms is their £1k Mondays room, which promises the chance to win £1,000 every money; not at all bad for a room with free tickets. Indeed, every day of the week has its own room, so feel free to flit between Saucy Sunday and Thursday Groove.
As you'd expect from a site that is powered by the Grand Battery Holdings machine, Bingo Besties has a host of slot games for you to play. Well-known offerings like Starburst and Rainbow Riches sit in amongst lesser known names to ensure there's plenty of variety. There are also plenty of deposit options, so you can turn to the likes of PayPal, credit and debit cards to get your money into your account with. All told it's a relatively painless experience playing bingo and slots with Bingo Besties.
Sundae Bingo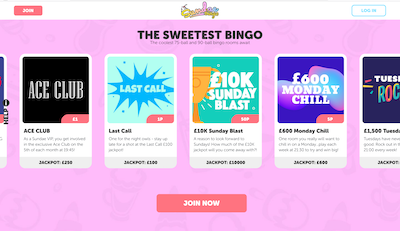 The idea of an ice cream sundae is that is piles huge scoops of ingredients on top of each other to make a tasty treat, so it's no major surprise to see that that's exactly what Grand Battery Holdings have done with this site that they own and operate. It's on the Dragonfish network, meaning that the bingo rooms offer plenty of enjoyment to those that login and get playing. They're rooms that you'll recognise if you've been on other sites that are part of the Grand Battery Holdings and Dragonfish canon, but the benefit from that.
There are free bingo rooms, 1p bingo rooms and rooms that ask for as much as £1 per ticket, so it's entirely fair to suggest that the full gamut of options is available here. Sundae Bingo hope that you'll feel sweet playing their games, and with £1,000 rooms offered on a regular basis it's easy to see why. There's also big jackpots such as the £10,000 offered every Sunday. Or should that be every Sundae? Regardless, Sundae Bingo offers users a sweet time every day of the week.
If you decide to take a brief break from the bingo then you'll be presented with all of the slot games that you'll no doubt have come to expect from Grand Battery Holdings. The most popular slots around are all there, as are some that are based on licences from films and TV shows such as Narcos. Of course, ultimately you'll be heading to the site for its bingo and the 75 and 90-ball rooms will tempt you back to their bosom soon enough.
How do you like to add money to your accounts on bingo sites? Whatever your preferred method is, there's a good chance that Sundae Bingo will accept it. Credit and debit cards are a given, but what about more modern methods? Yep, they're on the list too, so whether you're a card user or a PayPal fan you'll be sound.
Bingo Idol
What does a now defunct show like Pop Idol have in common with bingo? Nothing, actually, but that hasn't stopped the good folks at Dragonfish from styling this Grand Battery Holdings owned and operated site around it. One thing that is worth pointing out is that theme is quite different from the other 888 / Dragonfish combos, which all tend to be pretty template-based but with a slight tweak to fit in with their theming. Bingo Idol, meanwhile, has gone down a different road and benefits from that choice.
The bingo balls look bright and shiny, with the entire site having a rather more polished feel to it. This is reflected in the rooms, too. There are some of the ones that you'll get on the other sites like Street Party, but there are also ones like Mystery Jackpots and Bingo Roulette that we haven't seen elsewhere. That's a 52-ball room, with 90 and 75-ball bingo also available in different rooms. The Bingo Idol room options are amongst the best we've seen, so you'll almost certainly have good fun here.
That sense of fun isn't just limited to the bingo rooms, either. The slot collection on offer is arguably the star of the show, with tried and tested old favourites such as Shaman's Dream and Cleopatra supplemented by a constantly updated set of up-to-date releases. There's even a seasonal section for when the likes of Christmas and Halloween roll around and you fancy playing a slot that fits in with one of those themes.
Whether you're hoping to get involved in the bingo or the slots, you'll need to put some money in your account to do so. Thankfully there are a host of options to allow you do so, including NETeller, PayPal and credit and debit cards. Once you're ready to withdraw any money from your account you'll need to make sure you've got £5 or more in it, then you'll be able to withdraw to the same method that you deposited with in the first place.
Bingo Extra
Operated by:
Stride Gaming Group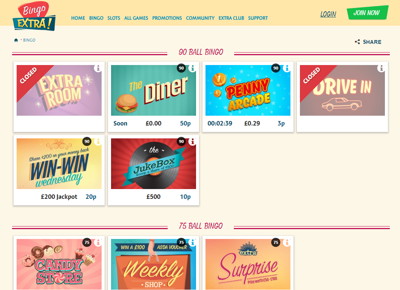 Whilst the name might sound like the people that run the site are encouraging you to play extra bingo, it's all about how you read it. Far more appropriate to imagine a young kid on a street corner in New York City in the 1950s shouting it out like it's a newspaper headline: Bingo Extra! Read all about it!
That's because the site has opted for a 1950s Americana feel, complete with rooms called things such as 'The Candy Store', 'The Jukebox' and 'The Roller Rink'. The hope is that you'll feel transported to a different world, which is enhanced by the pop art style graphics that sit on the home page, ready to welcome you in.
Don't think that that means that there aren't decent rooms ready to grab your attention, however. There are a number of free bingo rooms, including the Penny Arcade, but there also some with jackpot amounts that will get your juices flowing. The £10k Slider, for example, offers a jackpot of up to £10,000 in a 5-line bingo room.
In terms of the bingo rooms themselves, there are a decent selection of 90-ball, 75-ball and 5 line rooms, each with different jackpot amounts and that same feel of Americana goodness. Those of you with a good imagination will be wanting to order a coke float and humming Summer Lovin' to yourselves in no time.
Away from the bingo you might well feel that the 'extra' part of Bingo Extra is a promise, given the decent amount of slot games, scratch & arcade offerings and table & card games that you can keep yourself busy playing. There are also a host of exciting promotions and ways that you can earn rewards for doing what you love. The fact that they're adding new games all the time means that you're unlikely to get bored here.
With a minimum deposit of £5 and plenty of banking options, you'll be able to get yourself playing in no time.
Lucky Ladies Bingo
Operated by:
ElectraWorks Limited
There are some sites that hope you won't notice they don't offer much bingo as long as they bombard you with other slots and games, but that's not the case at Lucky Ladies Bingo. The list of bingo rooms is good enough to keep your interested long past the first couple of games, with 90 and 75-ball rooms matched up with more interesting ones like 80 and 30-ball options.
With bingo software provided by Cozy Games and rooms that are a part of the Live Bingo Network, sophistication is the order of the day when it comes to Lucky Ladies Bingo. Rooms like Victoria 90, Big Ben and Devoted Dabbers give you a decent impression of what to expect here, with opportunities for newbies and those that like free bingo games both presenting themselves.
If you fancy a break from bingo then you're in luck: the sheer number of slot and jackpot games offered on Lucky Ladies Bingo will mean you'll find it hard to drag yourself away from them and return to the rooms. You'll find all of your favourites there and if you'd rather something a little more traditional for a change then you can get involved in the countless casino games on offer instead. The real joy of Lucky Ladies Bingo is that you don't need to list yourself in any way.
You don't even have to limit yourself in terms of the payment options open to you, with the likes of NeTeller, PayPal and PaySafe cards sitting happily alongside credit and debit card options when it comes to how to get money onto your Lucky Ladies account.
Casino Dames
Casino Dames doesn't offer a huge amount of choice when it comes to the bingo rooms, but what is offered is well-themed and ticks all of the bingo boxes.
Owned and operated by Nektan and featured on the Pragmatic Play Bingo Network, Casino Dames has four different 90-ball bingo rooms, one 80-ball room and a room promising 75-ball bingo for those of you that like something just that little bit different.
The rooms are all named in a manner that means you'll be able to guess what to expect inside them pretty easily. Jackpot Room, for example, promises big jackpots to those that win in a certain number of calls, whilst Clock Work is the place to head if you're hoping for some speedy bingo. There's a Newbie Room for those that haven't been on the site for long, plus a Freebie Room if you're the sort of person that like to get a sense of how a site works before you start to invest any money.
As mentioned, the options aren't exactly overwhelming but the decision to keep things simple is actually one of the more appealing things about the site. They've done that with the overall theme, too. It's not too flashy or demanding of attention, but rather keeps things relatively classy like a dame of the realm really should.
That doesn't mean that it's a boring site to visit, however. The word 'Casino' in the title of the site tells you that this place promises a heap of exciting slots and other games to entertain you if you decide to leave the bingo rooms for a bit.
From Starburst to Riches of Atlantis, all of your favourite slots are here. If you were attracted by the word 'casino' because you like standard casino games then you're in luck as they're all here too. There are the likes of blackjack and roulette as well as punto banco, plus a host of live dealer options for you to choose from if you prefer the idea of seeing a real person dishing out the cards to everyone.