Many bingo sites have a lifespan largely because a lot rely on third-party networks to provide games and licenses.  When these networks change or close a lot of sites can end up being closed down.
This page lists bingo sites that we have previously covered that have since closed down or closed to the UK. A lot of bingo sites also come back from the dead and are picked up by new networks and so many in the list below will likely re-emerge in the future.
Bingo Extra
Operated by:
Stride Gaming Group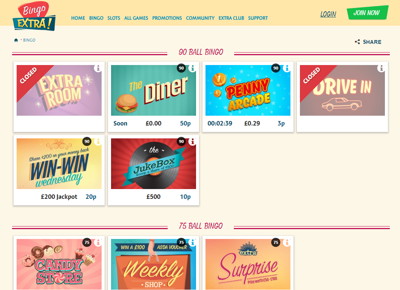 Whilst the name might sound like the people that run the site are encouraging you to play extra bingo, it's all about how you read it. Far more appropriate to imagine a young kid on a street corner in New York City in the 1950s shouting it out like it's a newspaper headline: Bingo Extra! Read all about it!
That's because the site has opted for a 1950s Americana feel, complete with rooms called things such as 'The Candy Store', 'The Jukebox' and 'The Roller Rink'. The hope is that you'll feel transported to a different world, which is enhanced by the pop art style graphics that sit on the home page, ready to welcome you in.
Don't think that that means that there aren't decent rooms ready to grab your attention, however. There are a number of free bingo rooms, including the Penny Arcade, but there also some with jackpot amounts that will get your juices flowing. The £10k Slider, for example, offers a jackpot of up to £10,000 in a 5-line bingo room.
In terms of the bingo rooms themselves, there are a decent selection of 90-ball, 75-ball and 5 line rooms, each with different jackpot amounts and that same feel of Americana goodness. Those of you with a good imagination will be wanting to order a coke float and humming Summer Lovin' to yourselves in no time.
Away from the bingo you might well feel that the 'extra' part of Bingo Extra is a promise, given the decent amount of slot games, scratch & arcade offerings and table & card games that you can keep yourself busy playing. There are also a host of exciting promotions and ways that you can earn rewards for doing what you love. The fact that they're adding new games all the time means that you're unlikely to get bored here.
With a minimum deposit of £5 and plenty of banking options, you'll be able to get yourself playing in no time.
Lucky Ladies Bingo
Operated by:
ElectraWorks Limited
There are some sites that hope you won't notice they don't offer much bingo as long as they bombard you with other slots and games, but that's not the case at Lucky Ladies Bingo. The list of bingo rooms is good enough to keep your interested long past the first couple of games, with 90 and 75-ball rooms matched up with more interesting ones like 80 and 30-ball options.
With bingo software provided by Cozy Games and rooms that are a part of the Live Bingo Network, sophistication is the order of the day when it comes to Lucky Ladies Bingo. Rooms like Victoria 90, Big Ben and Devoted Dabbers give you a decent impression of what to expect here, with opportunities for newbies and those that like free bingo games both presenting themselves.
If you fancy a break from bingo then you're in luck: the sheer number of slot and jackpot games offered on Lucky Ladies Bingo will mean you'll find it hard to drag yourself away from them and return to the rooms. You'll find all of your favourites there and if you'd rather something a little more traditional for a change then you can get involved in the countless casino games on offer instead. The real joy of Lucky Ladies Bingo is that you don't need to list yourself in any way.
You don't even have to limit yourself in terms of the payment options open to you, with the likes of NeTeller, PayPal and PaySafe cards sitting happily alongside credit and debit card options when it comes to how to get money onto your Lucky Ladies account.
Casino Dames
Casino Dames doesn't offer a huge amount of choice when it comes to the bingo rooms, but what is offered is well-themed and ticks all of the bingo boxes.
Owned and operated by Nektan and featured on the Pragmatic Play Bingo Network, Casino Dames has four different 90-ball bingo rooms, one 80-ball room and a room promising 75-ball bingo for those of you that like something just that little bit different.
The rooms are all named in a manner that means you'll be able to guess what to expect inside them pretty easily. Jackpot Room, for example, promises big jackpots to those that win in a certain number of calls, whilst Clock Work is the place to head if you're hoping for some speedy bingo. There's a Newbie Room for those that haven't been on the site for long, plus a Freebie Room if you're the sort of person that like to get a sense of how a site works before you start to invest any money.
As mentioned, the options aren't exactly overwhelming but the decision to keep things simple is actually one of the more appealing things about the site. They've done that with the overall theme, too. It's not too flashy or demanding of attention, but rather keeps things relatively classy like a dame of the realm really should.
That doesn't mean that it's a boring site to visit, however. The word 'Casino' in the title of the site tells you that this place promises a heap of exciting slots and other games to entertain you if you decide to leave the bingo rooms for a bit.
From Starburst to Riches of Atlantis, all of your favourite slots are here. If you were attracted by the word 'casino' because you like standard casino games then you're in luck as they're all here too. There are the likes of blackjack and roulette as well as punto banco, plus a host of live dealer options for you to choose from if you prefer the idea of seeing a real person dishing out the cards to everyone.