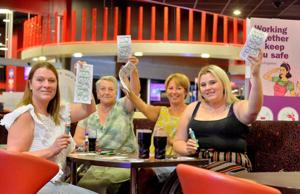 The UK has quite the love affair with bingo. It is one of the country's most popular gambling games, if not the most popular (of course we will say that). Many people visit bingo halls and have done for decades. Lengthy tables and chairs, organised in rows, allow players to take a seat. and in a ritualistic fashion, they get their cards and dabbers ready to play the game, eyes down.
In earlier years, bingo halls had an association with nights out for the older generation. It wasn't uncommon to see little old ladies with their shollys full of shopping, waiting outside the halls. After a successful (or unsuccessful) round, their taxis would await if they won or they would wander back to the bus stop and form and orderly queue. Bingo also brought a social aspect to gambling – something which remains with the game today.
Yet today's bingo halls welcome a variety of age groups, from young through to old. It has become a much more widespread interests across age groups. This has led to some of the UK's bingo halls becoming quite popular with gamers, but which ones are the most popular up and down the British Isles? We're going to take a look at the halls that stand out as being the most popular to visit. We also look at have they become so good and popular for players.
Merkur Bingo (formerly Beacon Bingo), Cricklewood
Across the country, there are five Beacon Bingo clubs. These now go by the name of Merkur Bingo after rebranding in 2021. One of them is the Cricklewood Broadway club in London, and this serves as the largest one.
It is able to accommodate more than 2,700 visitors/players. It has three bars and two restaurants. At the same time, it features a large smoking area, although this actually isn't used very often these days.
Cricklewood Broadway is also the holder of a Guinness World Record, which it acquired in 2014. At this point, Shaban Binaku scooped a £100,000 bingo payout. This marked the largest bingo win ever from playing a game at a single venue. The 35-year-old carwash owner won the prize at a Colossus event. He attended the hall at least three times a week. On previous occasions, he had won prizes of £5,000 and £10,000. Yet 2014 was his year to secure a big payout.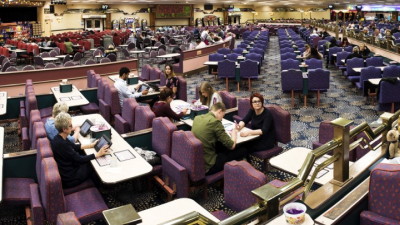 Today, the bingo hall remains one of the most famous and popular. Not only because of the size of it and the Guinness World Record. It provides a wealth of ticket types, prizes and is open Monday to Sunday, 24 hours.
At the end of June 2022, this bingo hall celebrated its 27th birthday. Furthermore, the average payout per month is £850,000. On average, 3,500 people secure payouts from the venue each month as well.
Alongside its bingo there are other gambling games available at Cricklewood. Slot machines make up the biggest selection of these.
Mecca Bingo Forge, Glasgow
Without a doubt, the popularity of a hall is measurable in success rates. That's why the Mecca Bingo Hall at Forge, Glasgow keeps people coming back. Known as the 'luckiest bingo hall' in the United Kingdom, people flock to this venue. From 29 wins, a total of £322,823.34 landed in the hands of players between October 2015 and September 2016. Yet it's not only the success rate of the Forge establishment that makes it popular.
The club is also known by players as one of the cheapest to visit. Sessions there start from as little as 50p. It also has seating for over 2,300 people, offering electronic bingo alongside. Slot machines are also part of their set up, offering visitors another chance at being fortunate.
In 2020, one player scooped a jackpot of £50,000. That victory came about less than 24 hours after Mecca re-opened following the COVID-19 national lockdown. The person managing to secure the payout wanted to remain anonymous.
He was utterly awestruck that all his numbers came up whilst playing there. The 71-year-old attends the bingo hall on a frequent basis. That had been his routine for the previous 10 years. Having missed being able to play due to the lockdown, he saw his opportunity to return.
Such examples of success at regular intervals has doubtless led to continued popularity. If there is one thing that spurs gamers on, it is seeing others winning, therefore, the likelihood is that Mecca Forge will remain popular with players.
Mecca Bingo, Camden Town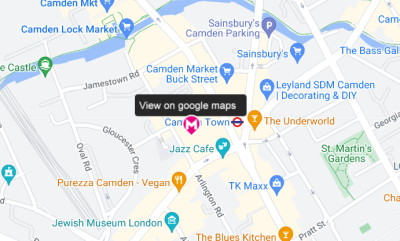 London, being our capital city has a massive number of bingo venues within the city and surrounding areas (within the M25). They're available in the north, south, east, west and central areas.
One of the most popular halls is in Camden Town. Another Mecca Bingo establishment, this one features theme nights to spice things up a little. It also provides semi famous hosts who keep guests entertained.
Thanks to the fact that it is next door to an Odeon Cinema, it acquires extra guests. People will often go to the cinema and then into the bingo hall, or vice versa. This setup has contributed in a big way to its success and popularity.
The hall on Arlington Road is able to seat 1,200 people. Open seven days a week, with different times for different days.
The venue became so popular with players, they submitted a request to open 24/7. While Mecca was adamant that it wanted this to be the case, neighbours in the area resisted. A series of objections came from people living close to the venue. If it had been successful, then Mecca would have been able to provide alcohol and gaming round-the-clock.
Yet fears arose that it would mean Mecca would be able to sell it on to nightclub owners in the future. This, one person said, gave it licence to be "a massive drunken all-night party". While that would doubtless appeal to a certain demographic, locals were not impressed. The bid was not accepted, although it could try for it again in the future.
This did not have an effect on the popularity level though.  Today it remains as one of the more popular venues in London for bingo fans.
Shipley's Bingo, Kidderminster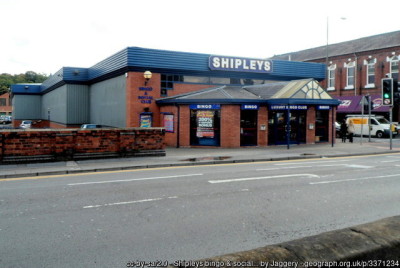 There has been a wave of big-name bingo brands across the UK. Gala Bingo, Buzz Bingo and Mecca Bingo stand out as main contenders. This has meant that many independent bingo halls have often faded away, being unable to keep up with the big girls.
One that stands out as a popular option, despite being independent, is Shipley's. Located in Kidderminster, this venue describes itself as a luxury club to visit. That doesn't restrict people, though, anyone can join and play bingo.
Every day of the week incorporates exciting afternoon and evening promotions. They offer free tea or coffee for those buying six tickets for £6 on Tuesday.  Thursday afternoons operate as the free bingo periods. and players could win £600 as the top prize from this, it can seat around 1,000 gamers.
The fact that it remains an independent bingo hall makes it all the more appealing for some. Shipley's owns a further two more clubs – one in Bristol and the other in Edmonton Green. You can also play bingo online with them.
One of the popular venues from this brand was the hall in Redditch. This also served as one of the larger halls under the Shipley name. Yet even though it had been open for a considerable amount of time, it wasn't to last. Found in the Midlands, Shipley's announced it was to close its doors in March 2020. Many found it a strange occurrence, due to the fact that it had been so popular. Operating as a social hub for many, the news came as a surprise. Speaking on that closure, Shipley's said:
"Trade has dwindled away in recent years making the business no longer sustainable. We will be stripping out the venue and returning the lease to the landlord on April 13."
A planning application submitted by Redditch Borough Council revealed plans for the venue. The centrally-located building was to become a storage facility instead. That application was not viewed in good favour by local people. Many of them described it as a 'nail in the coffin' for the town centre of Redditch. Of course, this was not able to deter the closure of the bingo hall.
Merkur Bingo (formerly Beacon Bingo), Northampton
This bingo hall in the heart of the shires can seat around 1,500 visitors. The purpose-built hall complete with air-conditioning has gone on to become the best in the region.
It comes with its own smoking balcony, two bars and a restaurant, providing good value for money.
As with the Merkur Bingo Hall found in Cricklewood, this hall has many similar features. That includes various ticket prices and game sessions. The order of play differs from day to day, too.
A primary difference is that this establishment is open 10am-6am, rather than 24/7. Payouts equate to roughly £243,000 on average per month. That has goes to an average of 3,500 successful players each month.
It hasn't had a huge number of people obtaining big payouts like some others listed here. Yet one woman did manage to get her hands on £250,000. Grandmother of 10, Yvonne Verlander went to the venue, then known as Beacon Bingo, with a friend. It proved to be a good day for her, as she scooped the £252,000 National Bingo prize.
She defied the odds by securing a full house and her star number of 47.  This occurred at a quicker rate than anyone else in the UK. That National Bingo game occurs twice every day around the country.
She planned on visiting Sharm el-Sheikh with some of the funds she had received. At the time, she had been visiting the hall for 20 years. The highest amount she had won before had been £5,000.