Pay By Phone is a widely offered deposit method on online bingo websites. Along with the usual visa debit, PayPal and other eWallets, Pay By Phone provides players with a different choice when making a deposit.
Unlike debit card deposits, you do not need to enter your bank details.  Instead you provide your mobile phone number and your mobile phone network provider / carrier transfers the money to the online bingo website on your behalf.
How Does Pay By Phone Work?
Its very simple to use and understand.  If you have a pay as you go mobile phone, the Pay By Phone deposit method will use up the credit.  For example.  If you want to deposit £5 into your online bingo account and you have £19.76 credit on your pay as you go mobile, after you have made the £5 deposit, your pay as you go balance will reduce by £5 to £14.76 plus any fees to use the service.
If you try to deposit more than you have available on your mobile phone credit, it is likely to fail.  However, it is unlikely that the bingo website will tell you the reason, it will simply say the request is declined, or similar words.
If you are a pay monthly mobile phone user, the the deposit amount is added to your next phone bill.  For example, if you monthly phone bill is £45.99, then depositing £10 via Pay By Mobile will increase the next bill to £55.99.  This is similar to entering competitions that you often see advertised on the television.  You will receive a confirmation text message to say that the amount has been added to your bill and the direct debit will be automatically amended.
Your mobile phone carrier sorts out the payment transfer and it does apply almost immediately.
When  you choose the Pay By Phone / Mobile deposit method, you type in your number in the box provided within the deposit section (these are always easy to find…of course!).  The bingo operator will then send you an activation code that you then enter into the box with the prompt instruction.  This will then verify your phone with the bingo operator and that's it.  You can deposit using your mobile phone top up credit or bill.
Are There Any Fees To Use Pay By Phone?
At the time of writing, there are no fees with using Pay By Phone Operators such as Boku and Neteller.  But do check the terms and conditions on each bingo operators website.  You wouldn't want to get stung with a £3 fee when all you wanted was a £5 deposit for Lucky Riches bingo!
With any deposit and withdrawal method, always check the website terms and conditions.  For example, a number of bingo and casino operators charge £2-£3 fee if you make a withdrawal under £10. You then are forced to consider whether to not withdraw the money or accept a lesser amount into your bank account.
Can You Withdraw Money On To Your Phone?
No.  Right now, this function is not available.  You would need to provide your bank account details, PayPal code or eWallet details for any winnings to be paid into.
This is more complicated than it may seem because there is the third party phone carrier involved and the functionality to add money is not so straight forward.  However it could work in the future for pay as you go customers.
I Am On A Small, Less Well Known Mobile Phone Network, Will That Work On Pay By Phone?
Most of the more well known mobile phone carriers and networks are compatible with Pay By Phone, however not every single one.  Double check the terms and conditions pages or the FAQ section  / Banking Methods section on each bingo website first. They will be able to tell you which networks are welcome.  Failing that, there is always the live chat that you can pop a message to.  If they are not ready and waiting to answer your questions, you will always get an email back pretty quickly.
Or, you could pop your number in the verification box and if it verifies, then the answer is yes.  Remember, it does need to be a UK number for it to work.
Isn't Pay By Phone A Backdoor Way To Get Credit?
This is an interesting point. Essentially by using Pay By Phone, you are deferring your payment to a later date. You are using your mobile phone bill as a form of credit.  Subsequently, you need to ensure when the direct debit is taken from your linked bank account to the mobile phone bill, there are enough funds.  Otherwise you will wrack up fees from your mobile phone carrier for missed bill payments. That's not good.
Alternatively, you could pop into the newsagents with your credit card and purchase you mobile phone top up card, top up your phone,  then use that to Pay By Phone on online bingo. One could say this is a mega credit card loophole, since the removal of credit card use on gambling websites in the UK.  This may be something the the Gambling Commission will crack down on when they have more research and figures for Pay By Phone usage.
However there is a daily cap at £30 Pay By Phone top up and £240 a month.  These appear to be little sums, but over a year the overall figure, if maxed out, is quite high.
That said, its a really useful payment function that loads of people like to use.  Its discreet and provides you with deposit choice away from your bank account.
Can I Use Pay By Phone For Welcome Offers?
Just double check this with each site.  Bingo sites change their welcome offer terms regularly and many have been known to say the initial deposit must be made by a debit account or PayPal.
Is It Worth It?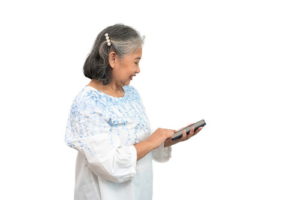 It gives you greater flexibility with your funds and very often you set your mobile phone bill to be collected just after pay day at the beginning or end of the month so many of us know there are the funds available to cover the cost.
It is a good option for smaller budget players, which lets face it, most of us are in bingo (please don't take this the wrong way).  We love the thrill of the game and statistics show that many bingo players, re-use their winnings on more, you guessed it, bingo.
As with any form of gambling: only deposit what your can afford to loose.
Also, don't be daft and use a company mobile, always be sure which mobile phone you are using when you use Pay By Mobile.