Gala Bingo television adverts really crack me up. Whoever conjures up the ideas has the most fantastically nutty and creative brain.
In the last couple of days, Gala bingo have released the third in their series of 'Bingo Like A Boss' television adverts as part of an extended campaign.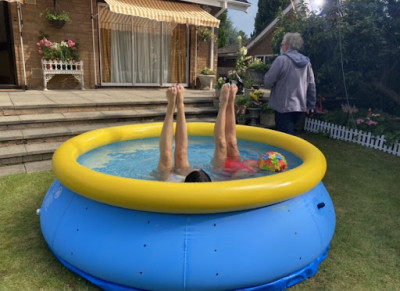 First we met Gloria who shaves a mans (who we assume is her poor husband) hair into a topiary figure of a swan whilst listening to some funky beats and playing bingo. Then we meet Ruby and an older lady; perhaps her nan? Ruby and her nan undertake some pretty impressive synchronised swimming in their paddling pool in a garden, in between playing bingo.
This week sees the introduction of Doug, the tightrope acrobat getting his washing in off the line, with his pet bulldog sat on the patio holding his peg basket in his mouth.
In the newest advert, Gala are certainly trying to turn the mundane and tedious act of folding washing into something totally awesome. If only I could have that much fun getting my washing in off the line.
The Bingo Like A Boss slogan has been used by Gala since 2020 and will continue as part of their campaign for the rest of 2021.
See the adverts here:
Here's Gloria and her grooming
Later on in the year we will see the three characters come together in a great boss off to determine who really does bingo like a boss!
Watching the Gala adverts made me think about Paddy Power and their somewhat crazy, little bit below the belt advertising. A fair while ago now, Paddy Power created a TV advert about a husband removal service. 
Making memorable videos certainly sparks attention.  I look forward to seeing Gala's next offering.