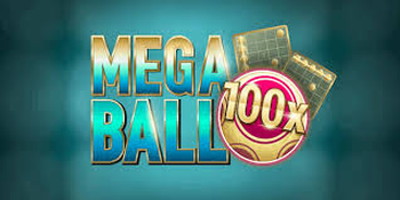 Mega Ball, bought to the bingo and casino market by Live Casino veterans Evolution Gaming, is a great new game to suit online bingo players and casino game players alike.  The live game, complete with a presenter in a studio certainly gives you that real life feel but with aspects of the game that you are in control of.  But don't be scared off by the presenter, you can ask them questions if you fancy a chat or you can simply sit back and watch your cards.  Of course there are still the usual online chat functions with other players.
The design of the studio makes me feel like we are stepping into the Emerald City in The Wizard Of Oz with its various shades of green, yellow, gold and of course glitz.
I get a sense that Evolution Gaming have worked hard to find a massively simple, quick to learn, quick to play game that appeals to many types of players.  If you get the buzz from playing the lottery; this will work for you. If you enjoy traditional bingo; this will work for you, if you enjoy the fast pace of casino slots, this again will be right up your street.  It really is fast.
The best bit is that you control how much you stake for the cards you buy.  Unlike regular online bingo and all players have the same value cards, you can purchase cards from 10p a pop right the way up to £100.  Whats more is this will not affect you chances of winning; there is a table on the bottom left of your screen that shows you your returns based on card value you choose.  It is a game to suit all budgets.  No other players will see your cards or your card value.
What Do Mega Ball Cards Look Like?
Firstly you can purchase up to a whopping 200 cards per game; the more cards you purchase of course the more chances of winning.  Secondly, the software cleverly moves the cards around on your screen so you can see how well you are doing and how close to completing a line you are.
Each card has 25 random numbers on a 5×5 square.  This is exactly the same layout card as you would use for 75 Ball bingo so some comforting similarities if you are a typical bingo player looking to play new games. There is a pre-marked off square in the centre.
If you get that hunch and you just don't like the numbers on the card you have purchased, you can press the centre, marked off number to refresh the numbers as many times as you like before the game begins. (Don't worry, you wont miss the start of the game as there is a green count down clock in the middle of the screen, and of course the real life human being will be letting you know when they are going to draw the balls.
The software only allows you to buy the cards prior to the game starting, the card function is greyed out when a game is in progress and when you cant purchase.  When I played for the first time, I watched a couple of rounds first so that i could feel comfortable with the options on screen and the pace of the game.  You might want to consider playing every other game with your set budget.  This will stretch out your game play and stretch out your budget, unless of course you are an all or nothing kind of player and want to go full steam ahead with loads of cards or a higher card value in one game.
How Do I Win?
Its all about completing those lines.  You win if you get a horizontal, vertical or diagonal line of 5 squares. You can win up to 12 lines per card (but not all in one go!).  I cant help but feel a buzz when we can see that one number drawn could complete two or three lines on one card or even various lines on multiple cards.
The software is excellent at showing you where these numbers are by putting a square box around those numbers.  The numbers are blotted off automatically and cards are enlarged that have  the most numbers marked off so you can sit back and see the game unfold.
I can't stress how quick it is, I think this is why I enjoy the game.  I find regular online bingo much calmer and at times a little slow, especially if I don't have a lot of time to play.  Mega Ball is perfect for that bingo feel but with a much faster paced thrill.
How To Play Mega Ball
Buy the number of cards you want to play with in one game, you can purchase up to 200 cards per game.   Then choose how much you want each card to be, they can be from 10p to £100 per card.  All cards have the same value.   You can add or change the value of the cards whilst the game is not in play, but be quick, don't get caught out and be sure you are happy with the amount you have bet on the cards.
You will be able to see all your cards on the screen, regardless of how many you purchase, you will need to navigate through the cards and click on the ones that you wish to enlarge. It can get pretty busy when you purchase many cards, so when you are new to the game you might wish to keep to a low number of cards to begin with.  You can refresh the numbers on each card as many times as you wish before the game begins.
When its time to stop placing bets (or buying the cards) 20 out of 51 numbered balls are drawn from the machine.  When a ball number matches your card, it is automatically blotted out with a green circle on your card.  If there is a number that will complete a line, it will be highlighted with a square box.  The card that has the most chance of winning, with the most numbers blotted out will be enlarged automatically on the screen.  The cards will swap automatically as the game progresses.
On the bottom right of the screen there is a box that show the numbers drawn and counts down how many balls are left to be drawn in the game
On the bottom left of the screen is the exciting Pay Table.  This cleverly tells you how much you will win based on the number of lines you complete per card.
There is an Autoplay function which allows you to repeat in a new game your chosen number of cards and their value
The Mega Ball Round a.k.a The Bonus Ball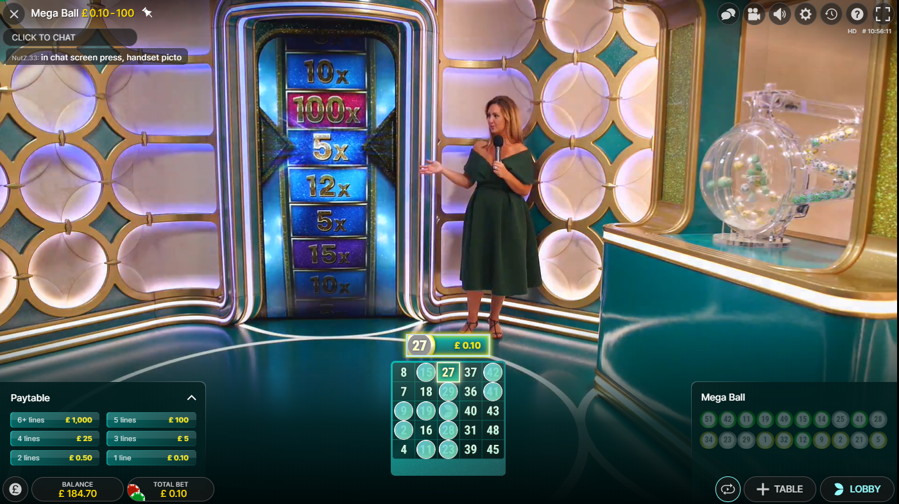 Once 20 balls have the drawn, the presenter will spin the Mega Ball wheel.  Wherever the wheels lands determines how much winnings will be multiplied by.
If the 21st ball completes any line in your card(s), your payout on that card is multiplied by the Mega Ball multiplier.  So if the spinning wheel lands on x5, and you complete a line with the number that is drawn, your winnings are multiplied by 5.
If there is more than one Mega Ball among your winning lines on the same card, your payout will be multiplied only by the highest multiplier.
The Return to Player rate percentage is 95.4%.  I'm sure that the more you play you are likely to come up with your personal strategy.
Below is a table to show you the amounts you can win depending on the number of lines marked off on each card.  Remember, the lines have to be on one card, not across many.  As the table shows, with relatively small stakes the possibilities of winning large amounts is very exciting.  The win amounts get bigger as you increase the card vale / stake.  There are more chances of winning when you increase the number of cards you purchase.
| Card £ / p | 0.10 | 0.20 | 1.00 | 2.00 |
| --- | --- | --- | --- | --- |
| 1 Line | 0.10 | 0.20 | 1.00 | 2.00 |
| 2 Lines | 0.50 | 1.00 | 5.00 | 10.00 |
| 3 Lines | 5.00 | 10.00 | 50.00 | 100.00 |
| 4 Lines | 25.00 | 50.00 | 250.00 | 500.00 |
| 5 Lines | 100.00 | 200.00 | 1000.00 | 2000.00 |
| 6+ Lines | 1000.00 | 2000.00 | 10,000.00 | 20,000.00 |
Mega Ball – Final Thoughts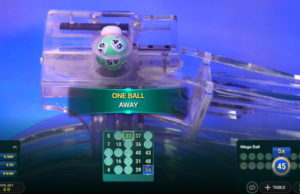 Mega Ball does really well to appeal to players that want something in between bingo and casino games.  I cant help but feel like I am playing roulette, yet at the same time its pretty darn close to bingo, further more it has a real sense of playing the lottery probably because it is played in a live studio.
Being able to set your own card value is a real positive and knowing that there is nothing else affecting payout chances other than the balls being randomly drawn physically before your eyes and the 21st ball, Mega Ball being drawn really places this new game high up on my go to list.